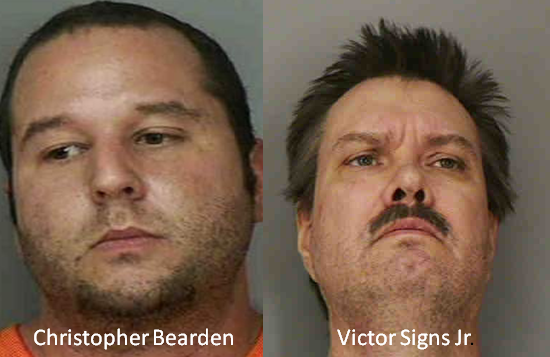 Polk County, Florida — The Polk County Sheriff's Office served two search warrants at two different addresses on October 10, 2013, ending in the arrests of two men.
The first search warrant was served at 141 Fernery Road Apt D7, Lakeland. Deputies developed information that someone at the residence offered to share child pornography via the Internet. 52-year-old Victor Signs Jr., told deputies he uses software to download videos from other people and that he is the only one who uses the computer in the residence. When asked about downloading child pornography, Signs Jr., denied downloading any and then requested an attorney.
According to deputies, while inside the home a preview was conducted of Signs Jr's computer and one video file of child pornography was located involving a young female child (4-5 years old) who was depicted nude and displayed in a lewd manner. Also located were multiple images of child erotica and animated child pornography. A full forensic examination will be completed to determine whether multiple files on his computer are child pornography. Signs Jr. was arrested for one count of Possession of Material Depicting Sexual Conduct by a Child.
The second search warrant was served at 2446 Riverwood Drive, Mulberry. 36-year-old Christopher Bearden was located at the residence at the time of the search warrant. Bearden told detectives that he "unintentionally downloaded" child pornography. He also made statements to detectives implying that viewing child pornography was a victimless crime because the files were simply available on the Internet and he did not believe the children were being "hurt" in the videos. Bearden told detectives that there were likely 100 files of child pornography that would be located on his computer.
According to reports, a preview of Bearden's computer was conducted inside the home, which yielded 40 video files depicting sexual conduct by a child between the ages of 5 and 13. Bearden was charged with three counts of Possession with Intent to Promote Material Depicting Sexual Conduct by a Child and 40 counts of Possession of Material Depicting Sexual Conduct by a Child. He was also charged with Possession of Methamphetamine and Possession of Drug Paraphernalia.
"These are two more suspects who have not heeded our warning; if you are a part of the child pornography pipeline that has contributed to the victimization and traumatization of thousands of children around the world, we will catch you, and you will go to jail," said Sheriff Grady Judd. Adding, "We have no tolerance for child pornographers in Polk County, period.
Both men could face additional charges after a full forensic analysis is conducted on their computers.


style="display:inline-block;width:468px;height:60px"
data-ad-client="ca-pub-0875608592842799″
data-ad-slot="1194311315″>