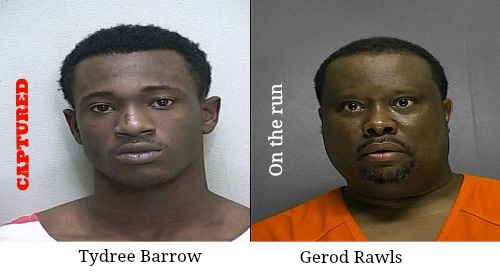 Ocala, Florida — Detective Fernandez has continued to investigate the shooting homicide of Samuel Washington, 28, that occurred on November 14, 2013. During the investigation, Detective Fernandez arrested two suspects for related charges — Howard Lee Hill, 20, and Laquan Ria'Mel Barrow, 22, were both arrested for one count each of Burglary of a Conveyance with a Battery.
Detective Fernandez then obtained warrants for two more suspects for charges relating to the homicide — Tydree Najee Barrow, 20, and Gerod McFero Rawls, 47.
The charges on the warrants are for four counts each of Aggravated Assault with a Firearm and one count each of Throwing Deadly Missiles into an Occupied Vehicle.
On Tuesday, December 3, 2013, Tydree Najee Barrow, was located and arrested by the U.S. Marshalls Office and delivered to the Marion County Jail.
Barrow was located at Carriage House II, 2631 NE 10th St., #503, in Ocala.
Tydree Barrow is being held on a $500,000 bond.
Convicted Felon Gerod Rawls may have ties to Volusia County. Rawls has been arrested two separate times: once in 2011 and again in 2012, both arrests were for Trafficking Cocaine.
Rawls, has not yet been located on his outstanding warrant in this case
If you have any information about Rawls please call the Marion County Sheriff's Office at 352-792-9111. Tips can also be given via Crime Stoppers of Marion County by calling 352-368-STOP(7867), texting tips to 274637 using keyword 368STOP, or submitting tips to www.ocalacrimestoppers.com. Rawls is considered armed and dangerous.
The investigation is still ongoing.
Please follow and like us: