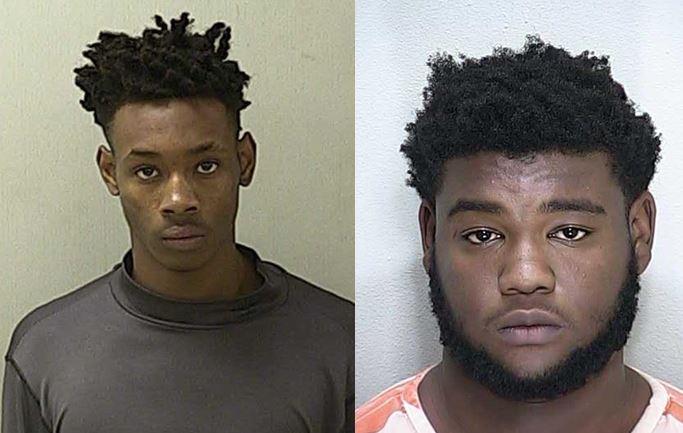 Ocala, Post — Two teens were arrested Tuesday after they lead Ocala police on a short high-speed chase.
Ocala police detectives received an anonymous tip that a silver Chevy Avalanche, which had been reported stolen, was seen traveling in the vicinity of Northwest 10th Street and Northwest 7th Avenue.
Upon seeing the vehicle, an OPD K-9 officer, who was driving an unmarked car equipped with lights and sirens, pulled behind the Avalanche and attempted to initiate a traffic stop in the 400 block of Northwest 9th Avenue.
The vehicle then fled at a high rate of speed.
The chase lasted for approximately two miles before the driver, later identified at Dexavion J'Neil Brown, 16, and the passenger, Levon Buckhanon, 18, jumped out of the vehicle and fled on foot.
While officers who responded to the area chased Brown, the K-9 officer pursued Buckhanon.
Buckhannon ran toward the 2000 block of Southwest 8th Place and cut through the back yard of the residence.
The officer yelled for Buckhannon to stop or [he] would release the K-9.
As Buckhannon continued to run, he crashed into a fence and fell to the ground. He then yelled out "I give up, don't let the dog go."
The K-9 officer then drew his taser and moved in.
During Buckhanon's arrest, the officer discovered that the suspect was armed with a Ruger LCP. Buckhannon also had a fanny-pack that contained more than 28 grams of marijuana, credit cards, a small scale, and other property.
While the K-9 officer detained Buckhannon, the other Ocala police officers apprehended Brown.
The 16-year-old confessed to stealing the Avalanche from a Food Mart on November 19. Additionally, he confessed to two armed robberies.
Armed robbery of the Kwik King located at 3685 Southwest 20th Street on November 21.
Armed Robbery of the Boost Mobile located at 2076 West State Road 40 on November 21
In both robberies, Brown had an armed accomplice.
It is not yet know if Buckhanon participated in any of the robberies.
Brown was charged with Grand Theft Auto, Robbery with a Firearm, Fleeing and Eluding Law Enforcement, and Resisting Arrest.
He was also arrested on September 16, 2016, and charged with Home Invasion Robbery with a Firearm.
Buckhanon was charged with Possession of a Controlled Substance, Possession of A Firearm during the Commission of a Felony, and Resisting Arrest.
The investigation is ongoing.
If you have any information, please call the Ocala Police Department at 352-369-7000, Crime Stoppers at 368-STOP,  or text 274637 using keyword 368-STOP.  Tipsters can also visit www.ocalacrimestoppers.com. Anonymity is guaranteed.