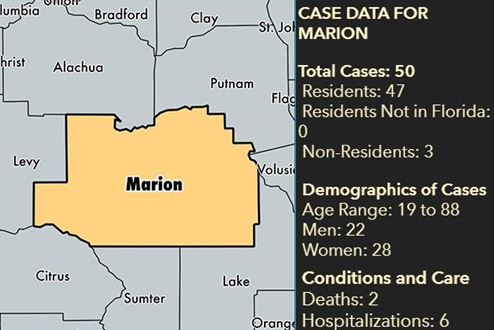 Two Marion County residents — an 88-year-old male and a 58-year-old male — passed away this weekend after contracting COVID-19. Both were Ocala residents. These are the first two deaths linked to COVID-19 in Marion County.
As of 6 p.m., Sunday, April 5, Marion County has 50 total COVID-19 cases. The most recent individuals confirmed to have the virus range in age from 36 to 77; five are from Ocala, two are from Summerfield, and one is from Dunnellon. For more detailed information, including zip code level data of all Marion cases, view Florida's COVID-19 Data and Surveillance Dashboard.
How to Get Tested
Residents can get tested for COVID-19 at multiple places in Marion County. Places offering testing include the Department of Health, Heart of Florida Health Center, Langley Medical Center, and some primary care providers.
Testing at the Department of Health
Individuals who are experiencing symptoms of COVID-19 AND who meet one or more of the following categories should call the Department of Health in Marion County's 24/7 COVID-19 hotline (352-644-2590) to schedule an appointment:
Over age 65
Over age 50 and have diabetes or cardiovascular disease
Health care worker
First responder
A recent traveler to any international locations or domestic locations (New York tri-state area, California, Louisiana, etc.) currently impacted by COVID-19
Testing at Another Medical Provider's Facility
Contact your primary care provider to see about the possibility of testing at the provider's office if you would like to be tested but don't meet the above criteria for testing at the Department of Health.
If you do not have a primary care provider or if your primary care provider is unable to test, contact the following to see if you qualify for screening:
Heart of Florida Health Center (352-732-6599, www.myhfhc.org/)
Langley Medical Center (352-680-7000, www.langleymedicalcenter.com)