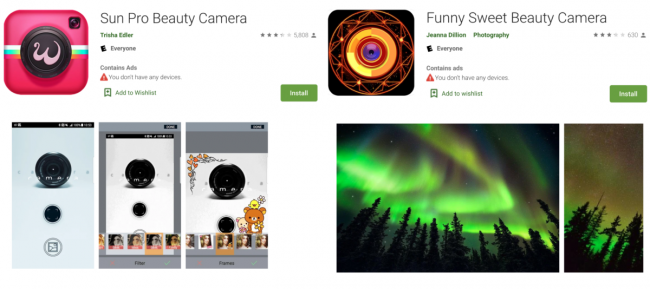 Two malicious Android apps with over 1.5 million combined downloads, one of which has been on the app store for two years, have been removed from the Play Store after Google discovered they were serving up adware.
Adware serves pop-up advertisements which make money for its developers whenever the adverts are clicked, and while adware is often more annoying than anything else, the ads can sometimes cause issues for users if the developer has programmed the ads to be intrusive.
The two apps – Sun Pro Beauty Camera and Funny Sweet Beauty Selfie Camera – in addition to adware, were found to contain a number of additional permissions that strongly suggest the apps could be used for more intrusive behavior.
According to researchers, the apps were programmed to request and record audio, allowing the app to use the microphone to listen in to anything said near the device at any time, as well as a number of permissions that allow the app to constantly run on the device, even if the apps are closed.
Sun Pro Beauty Camera, released in September 2017, was in the Play Store for two years and downloaded over a million times. Funny Sweet Beauty Camera hit the Play Store in July of 2019, and in just two months, was downloaded over 500,000 times.
According to Google, both apps managed to "slip through" their vetting process.
Any consumer who has these apps on any Android device is urged to delete it and clear the cache and temp files on the device.