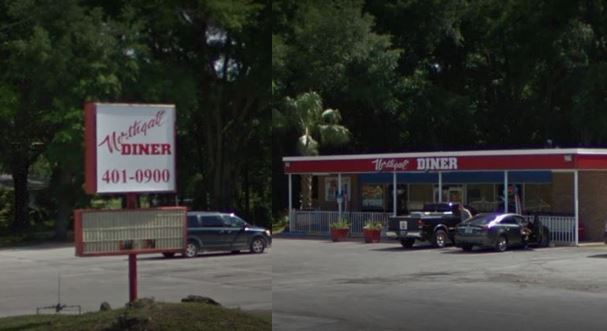 The Northgate Diner, located at 3541 NE Jacksonville Rd, Ocala, was immediately shut down after an emergency order was issued on September 16, following a consumer complaint. The restaurant was allowed to reopen within 24-hours, but will need a follow-up inspection after a time extension was given.
The Department of Business and Professional Regulation cites violations of Florida's sanitation and safety laws, which are based on the standards of U.S. Food and Drug Administration's Food Code. High Priority violations are those which could contribute directly to a food-borne illness or injury and include items such as cooking, reheating, cooling and hand-washing.
Many of the offenses were repeat violations.
Build-up of mold-like substance on nonfood-contact surface. On the exterior sliding door in a unit at the front counter.
Dead roaches on-premises. Two dead roaches on the floor next to a dry storage shelf.
Employee beverage container on a food preparation table or over/next to clean equipment/utensils. One drink on prep table next to dish machine. Removed.
Equipment and utensils not properly air-dried – wet nesting. Glasses in the server station.
Grease receptacle/dumpster not on proper pad/nonabsorbent surface. Dumpster is in the grass at the edge of parking lot.
Wet wiping cloth not stored in sanitizing solution between uses. One on prep table at cook line. Removed.
Wiping cloth solution stored in a location that could result in the cross-contamination of food, equipment, utensils, linens, single-service, or single-use articles. Bottle of sanitizer hanging on a shelf next dry storage items in prep area.
Employee touching ready-to-eat food with their bare hands – food was not being heated as a sole ingredient to 145 degrees F or immediately added to other ingredients to be cooked/heated to the minimum required temperature to allow bare hand contact. The establishment has no approved Alternative Operating Procedure. Female employee sliced celery with bare hands to be used in chicken salad. Stop sale issued.
Potentially hazardous (time/temperature control for safety) food held using time as a public health control marked with a time that exceeds the 4-hour limit. See stop sale. On prep table in the kitchen area: ham, cheese, and tomatoes. Items were taken out of the refrigerator at 6:30 am. Stop sale issued. Also, no timing mark for shell eggs.
Raw animal food stored over ready-to-eat food. In the reach-in freezer: raw beef over an opened bag of meatballs. In reach-in cooler in the kitchen area: raw shrimp over chocolate chips. In reach-in cooler in a storage unit, raw pork over fruit.
Roach activity present as evidenced by live roaches found. Three live roaches in the wheel of reach-in freezer near dry storage shelves. Pest control company showed up during this inspection.
Rodent activity present as evidenced by rodent droppings found. Eleven rodent droppings on the ledge of a wall near floor next to a dry storage shelf.
Stop Sale issued due to food not being in a wholesome, sound condition. Two pieces of celery for chicken salad for bare hand contact. Ham, cheese, and tomatoes not discarded after four hours while using TPHC.
Commercially processed ready-to-eat, potentially hazardous (time/temperature control for safety) food opened and held more than 24 hours not properly date marked after opening. Milk in reach-in cooler at server station from yesterday.