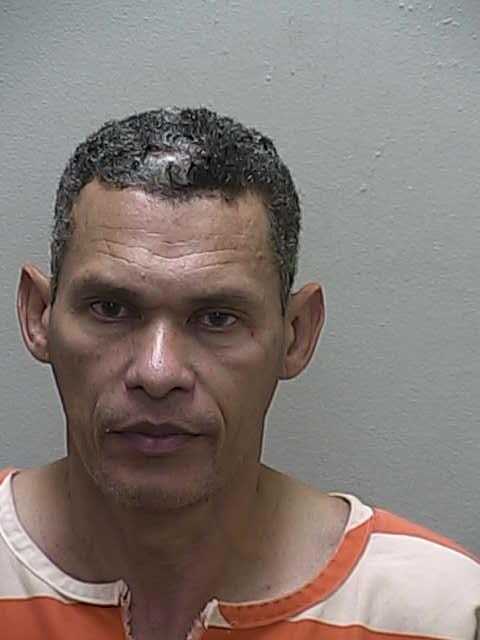 Ocala, Florida — Leonardo Reyes-Ning, 49, of Miami, was arrested in Marion County today, July 28, 2014, after he led Marion County Sheriff's Deputies on a high speed chase.
Reyes-Ning was driving a stolen tractor-trailer that was being tracked by GPS. The tractor-trailer was reported stolen out of Port Wentworth, GA.
According to the Marion County Sheriff's Office, when a deputy attempted to stop the truck, Reyes-Ning kept going.
Reports stated that, when a deputy attempted to get in front of the tractor-trailer, Reyes-Ning then swerved, forcing the deputy onto the shoulder of the road.
The Ocala Police Department also joined the chase.
Deputies were eventually able to slow the semi down, but only after Reyes-Ning ran several deputies off the road.
Once stopped, Reyes-Ning jumped from the semi and fled on foot. He ran into a wooded area near the 9700 block of South U.S. 441.
Officer Jessica Nasworth with OPD gave chase and eventually deployed her Taser.
According to reports, the shipping container that was being hauled had more than $50,000 worth of clothing that had been shipped from China to Port Savannah.
The Marion County Sheriff's Office stated that a second tractor-trailer hauling a shipping container was also stolen from Georgia and was recovered in Marion County on State Road 326.
Detectives said Reyes-Ning does have a commercial driver's license.
Reyes-Ning would not cooperate with law enforcement.
He was arrested and transported to the Marion County Jail. He was charged with Larceny-Cargo Theft, Fleeing and Eluding Law Enforcement at a High Speed, and Resisting Arrest.
His bond was set at $511,000.
Dash cam video is not available at this time.