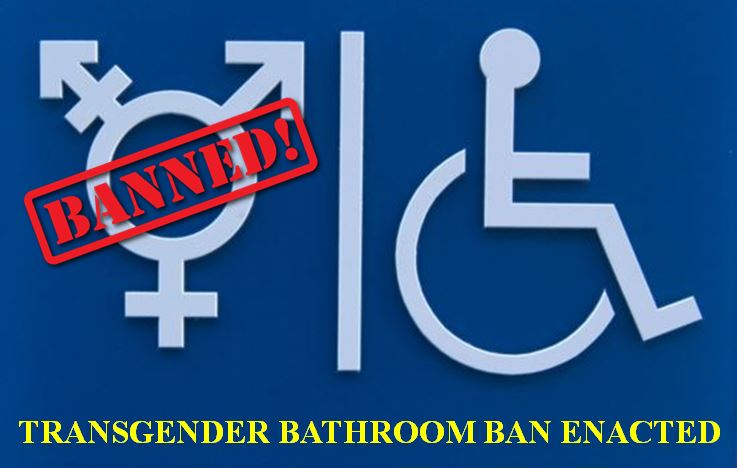 Ocala, Florida — The resolution to ban transgender bathrooms in Marion County schools has been officially adopted.
During a Tuesday emergency resolution meeting, the Marion County School Board passed the resolution with a  4-1 vote.
Marion County Public School Public Relations Officer, Kevin Christian, said, "The resolution limits school bathrooms to students based on birth sex, not gender identity."
Christian said they the School Board is committed to the safety of all children in Marion County schools.
The resolution was passed despite threats from the American Civil Liberties Union. The ACLU says that the ban is considered sex discrimination. However, most all parents who showed up for the meeting disagreed and fully support the ban.
One parent, who does not want to be identified, said, "It's simple…if you have a penis you use the boy's bathroom and vice versa. I do not want a boy who claims to be a girl in the bathroom with my daughter. This is not a "thing," but rather a sickness."
A Virginia school district recently adopted the same ban. Last week the U.S. Supreme Court of Appeals Ruled that the ban was discriminatory.
School board members said that they have done extensive research on this issue. Members said that the ban was needed to ensure the safety of all students.
School board members Carol Ely, Nancy Stacy, Angie Boynton, and Kelly King voted for the resolution. However, Board Chairman Bobby James did not want to pass a resolution that would be implemented overnight. Instead, he wanted to evaluate the issue over summer break.
Christian said, "Students will use restrooms, locker rooms, and other facilities based on their gender at birth, not the gender with which they identify."
Those who attended the meeting said that their number one concern was the privacy of their children.
The School Board said they will stand their ground on this issue.