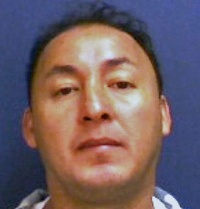 Woodbine, Georgia — Camden County deputies pulled over a Honduran man five miles north of the Florida-Georgia line on I-95 for failure to maintain his lane and discovered 6.5 pounds of cocaine.
When deputies approached the vehicle and asked for license and registration, the driver, Gerardo Antonio Lopez, 40, of Miami, produced a Honduran International driver's license and a rental agreement for the vehicle.
Lopez told the deputy he and his passenger were coming from Maryland where they were visiting family, but the passenger told the deputy they were coming from Virginia.
The deputy asked Lopez if it was OK if he performed a search of the vehicle, at which time Lopez granted the deputy permission. The Deputy found two laundry detergent boxes sitting on the rear floor boards in Wal-Mart bags. The deputy then asked Lopez who they belonged to and Lopez said they were his. After noticing that the boxes had been opened and resealed, the deputy asked Lopez if he could open the boxes and Lopez said yes. There were three separate concealed plastic bags in the boxes.
After careful inspection at the substation, deputies found two zip-lock bags and a hard package that contained a compacted white powdery substance that field-tested positive for cocaine, totaling 6.5 pounds (nearly 3 kilos), and has an estimated street value of $70,000.
Authorities say Lopez's sole purpose in the U.S. seems to be strictly for trafficking in Cocaine and may be tied to a larger scale drug operation.
Lopez claimed ownership of the cocaine and said his passenger did not know anything about it.
Lopez was charged with Trafficking Cocaine and is being held at the Camden County Jail.