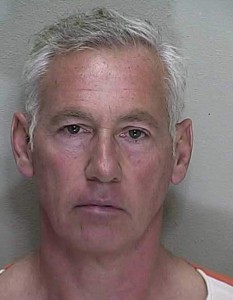 Ocala, Florida — On Friday, January 10, 2014, the parent of a 15-year-old student of Francis Marion Military Academy reported her daughter as a runaway. Earlier that morning, the mother had found teacher and retired Army Sergeant, Duane Ernest Adams, 54, waiting outside her home for her daughter; he claimed he was there to drive her to school. The mom reportedly asked Adams to leave so she could driver her daughter to school, which she did.
The child never returned home, and it was later determined that the girl never attended school.
Throughout the weekend the child's parents brought forward information on possible people their daughter could be with, and places she might have gone. Officers followed up on each of these tips, but were unable to locate the runaway child.
Among the people interviewed was the teacher/coach Adams, who denied any knowledge of the child's whereabouts when questioned by Officer Hoffman on Sunday, January 12, 2014, and again when he spoke to Detective Fernandez and Sergeant Young on Monday, January 13, 2014.
On Monday, January 13, 2014, the 15-year-old girl was located at the Steak N' Shake, 3800 SW College Road in Ocala. Officer Jessica Wong responded and made contact with the girl; she was then returned to her parents.
The girl and her parents met with Detective Fernandez on January 14, 2014, as did Adams. It was learned through the interviews that Adams had taken the girl from school on January 10, 2014, and allowed her to stay in his apartment during school. That evening Adams took the 15-year-old girl to Daytona where they stayed in a hotel for two nights and he used a fake name upon check-in. On Sunday, January 12, 2014, Adams drove the girl to the Ocala RV Campgrounds, 3200 SW 38th Avenue, where he rented a cabin for her for four days.
Adams finally admitted that he lied to police about the 15-year-old girl's whereabouts and his involvement.
Adams denies any sexual contact with the girl.
Adams was arrested on January 14, 2014 and charged with one felony count of Interference with Child Custody and booked into the Marion County Jail.
Adams has been suspended without pay.