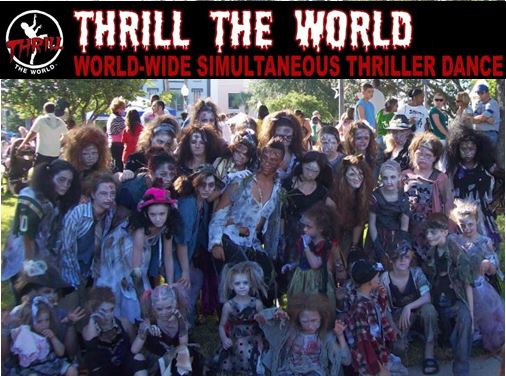 Ocala, Florida — Thrill The World Ocala is back for its fifth year this October.
Thrill the World Ocala is an annual attempt at the Largest Simultaneous Dance with Michael Jackson's Thriller.
Every year, zombies get together and try to break Ocala's record by dancing to Thriller on the downtown square.
In 2014, they had over 130 zombies dancing, 110 vendors, bounce houses, DJs, Old Skool cover band, and many food trucks.
There were over 5000 people who attended the event.
If you would like to help Thrill The World break the Ocala record, the cost in advance is $5 per zombie, which includes two rehearsals — one on Wednesday October 14th and Thursday October 15th at 6:45 p.m. at Extensions Dance Studio East Side.
If you would like to become a vendor at Thrill The World, the cost is $80, which can be written off towards advertising.
Join them on Saturday, October 17th, from 5 p.m. to 10 p.m.
This is Ocala's Biggest Fall Festival and you won't want to miss it.
For more information, contact Chrissy at chrissydurning@gmail.com. You can also visit the event page below.