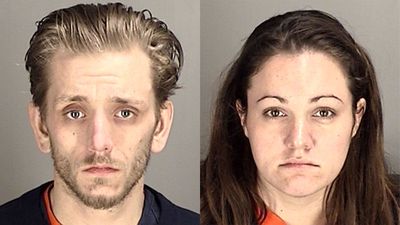 Napa, California — A man and woman are under arrest after the woman's three-year-old daughter, Kayleigh Slusher, was found dead in their apartment.
Sara Krueger, 23, and her boyfriend Ryan Warner, 26, were arrested after Napa Police put out an alert on Saturday evening, after the body of the three-year-old was found. On Sunday morning the couple were spotted eating breakfast at a restaurant in Barte, California as if nothing had happened. Krueger and Warner fled the restaurant once they realized they had been recognized. The couple were arrested at the Del Norte Bart station by Bart Police shortly after they fled.
Kayleigh was found in her bed by police while they were conducting a welfare check based on an anonymous tip. Police said a neighbor saw the couple leaving with luggage early Saturday morning without Kayleigh. Reports indicate Kayleigh was found around 1 p.m., and evidence indicated she had suffered blunt force head trauma as well as sexual assault.
ARTICLE CONTINUES BELOW
Authorities said the property manager told them Warner had moved in with Krueger about 10 months ago and it was downhill from there. Reports indicate police were at the couples residence constantly for noise violations and reports of abuse. Police had visited the residence just one week before Kayleigh's murder.
Kayleigh's biological father, Jason Slusher, 33, who is currently serving a prison sentence at San Quentin Prison, was notified of his daughter's death.
Krueger and Warner both have criminal records including charges related to drugs. However neighbors, family, and friends told investigators it wasn't Krueger that was the abusive person in the relationship.
Krueger and Warner are charged with Special-Circumstances Murder and Sexual Assault on a Child. In the state of California, if convicted, Kruger and Warner could be facing lethal injection. Special Circumstances means the actions of the accused or the situation under which the crime was committed for which state statutes allow or require imposition of a more severe punishment; in this case, lethal injection.
Krueger and Warner are being held at the California Department of Corrections.
Ocala Post was denied a phone interview by both suspects.