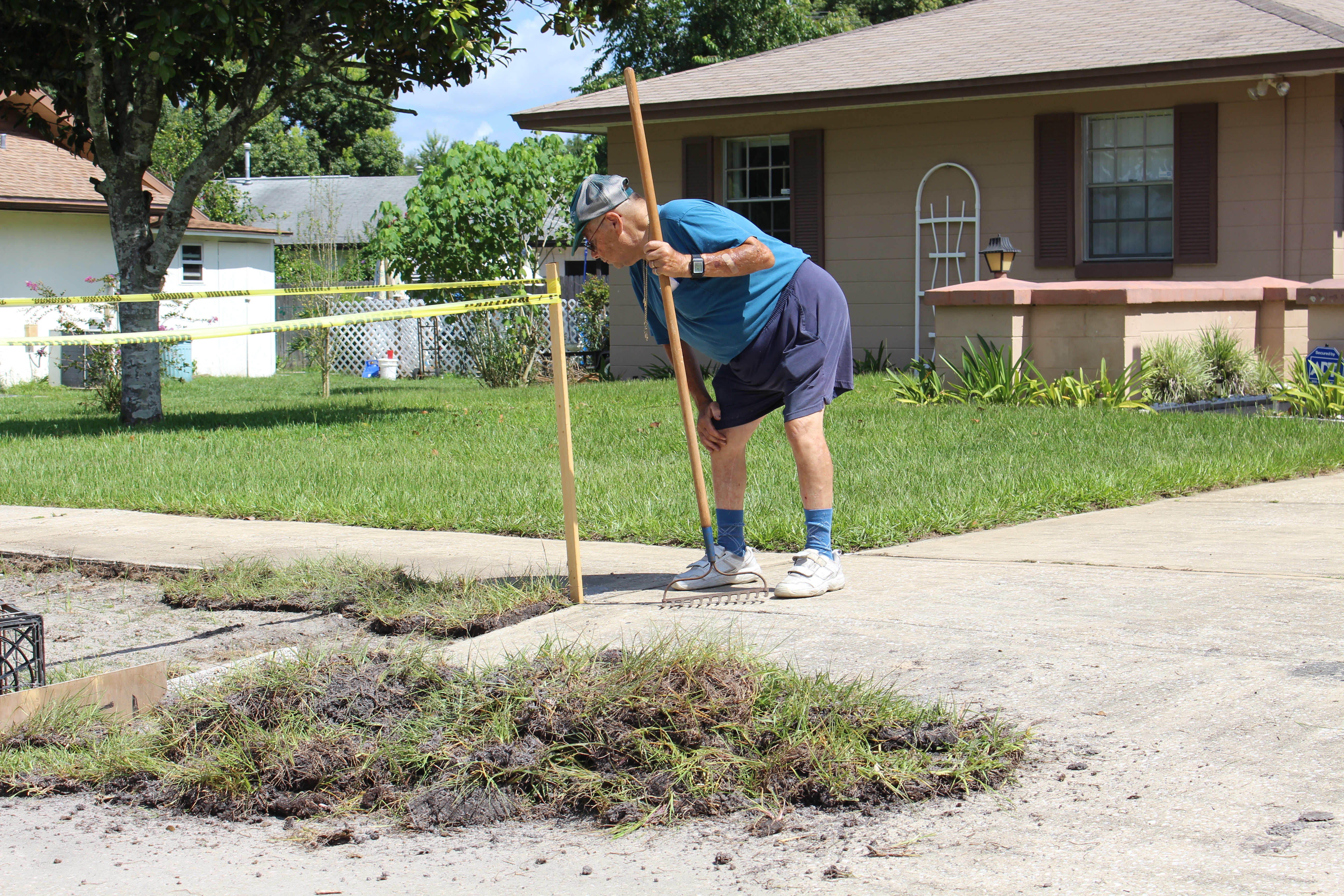 Ocala, Florida — Would you send back a delivery of sod if it arrived in pieces and not as promised?
That was exactly what 73-year-old Jerry DeMeola, of Ocala, did when Sod Central, 7860 SW State Road 200, attempted to deliver 300 square feet of sod today, July 24, 2014.
Prior to ordering the grass, DeMeola said he called the sod company on two separate occasions and inquired about the sod.
He said he asked Sod Central multiple times about the health of the sod and that they guaranteed him the sod would be delivered lush and green. He said Sod Central told him that with all the rain, the grass would be nice and green.
Instead, he said the grass was delivered in pieces and nearly dried out.
"The grass looked like it was all chewed up," said DeMeola. "I am 73-years-old, I can't lay sod that is in little pieces when it should have been delivered as rectangles."
"It would have been like trying to put a jigsaw puzzle together," he added.
DeMeola said his 13-year-old grandson came to help him, but when the boy arrived, he had to send him home. "I felt bad for wasting his time," he said.
DeMeola said he believes in being fair, so he called the company and gave them a chance to "make good."
"The owner of the company didn't want to hear anything," said DeMeola. "All they wanted to do was argue and make excuses. They told me this is how sod comes."
DeMeola stated that Sod Central told him they have no way of knowing what condition the sod is in until it is delivered to [them.]
"They don't know what condition it is in, yet they told me over the phone it would be lush and green. It, it just doesn't make sense, " DeMeola said in frustration.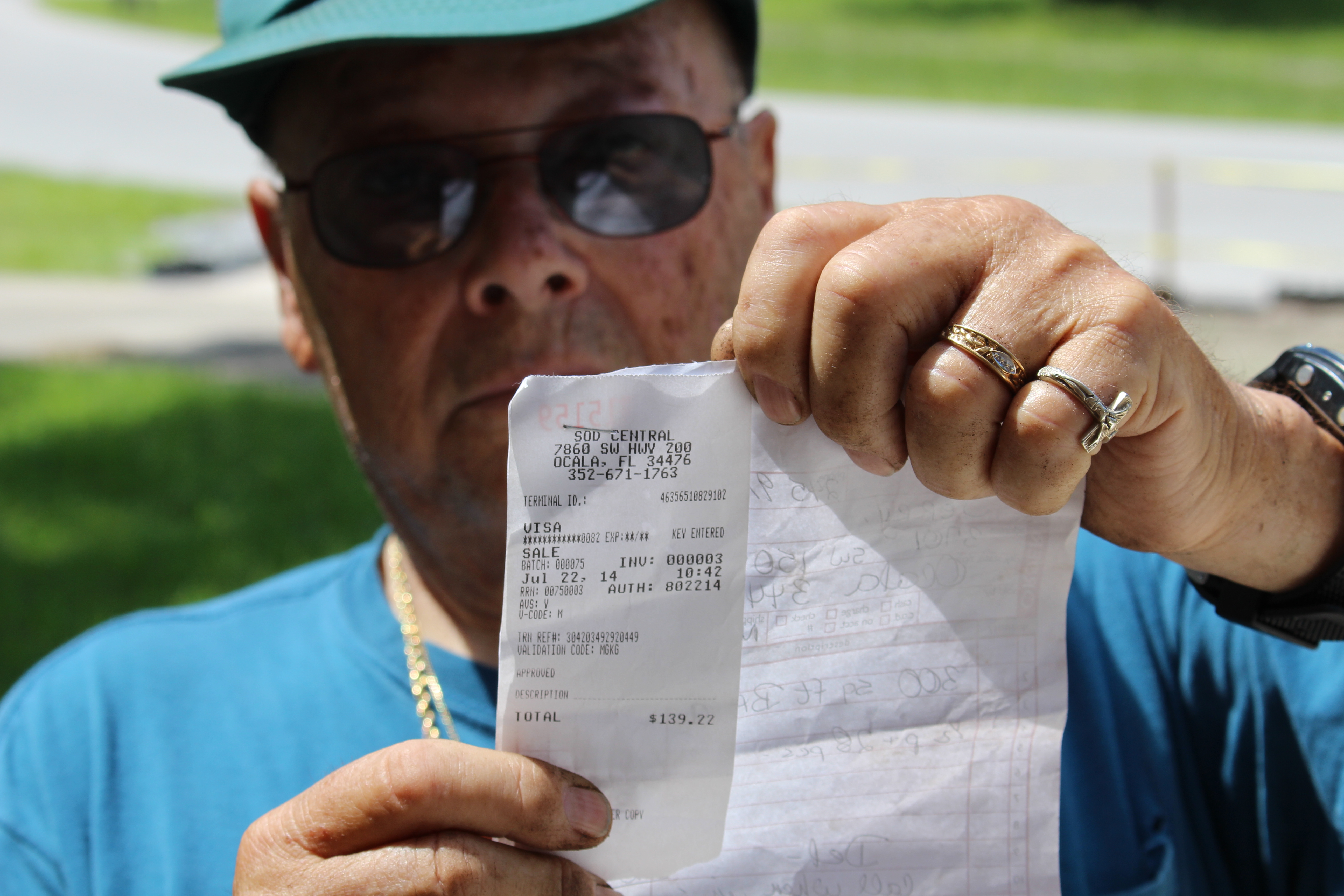 While Ocala Post was speaking with DeMeola, Sod Central actually called his home.
During the conversation, DeMeola was told that they would be willing to give him partial credit, but keep a $69 delivery fee due to the few chewed up pieces of sod that the delivery driver had pulled off the truck.
DeMeola refused the $69 deal and asked why they told him over the phone that the grass would come lush and green , and then deliver something that was unusable.
"Any sane person can see that the sod looks like leftover scraps they tried to deliver me," said DeMeola.
DeMeola refused the delivery and the company would not refund his money. The owner told him they have a sign in their office that states no refunds.
"How am I supposed to read the sign in your office if the transaction was done over the phone?" DeMeola asked. "The receipt that was provided to me also does not state 'no refunds.'"
The company continued to argue before they abruptly terminated the phone call with DeMeola.
"I feel like I am being taken advantage of," said DeMeola. "I have ordered Bahiagrass before and it was always delivered on a pallet…nice, neat, and green. It didn't look like leftover scraps thrown in the back of a truck."
He went on to say, "I don't think I am being unreasonable at all."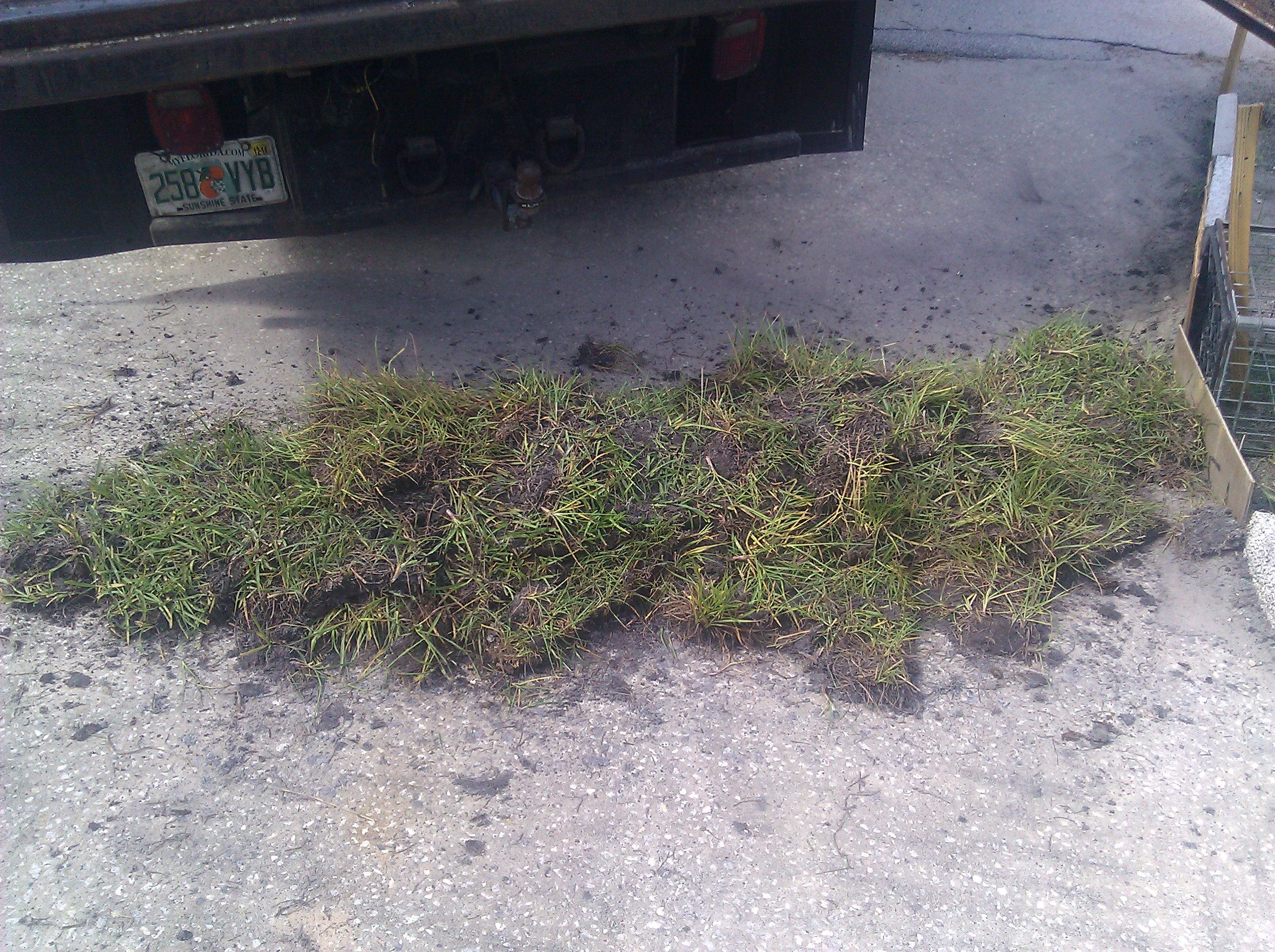 Ocala Post reached out to Sod Central and they released the following statement via e-mail:
First off we must be very clear that the sod being delivered was Bahia Grass. Bahia is a field grass and is not expected to be a groomed mowed perfect grass and the grass taken to to Mr Demeola is and was perfectly good quality grass. Unfortunatly most people that do not deal with grass on a regular basis do not understand what they can resonably expect from Bahia even when we do our best do educate them. With Bahia grass you need to get it on the ground water it and let it root and it will become a nice yard grass once being mowed.. If a customer wants to receive a pre groomed treated grass that will hold together perfectly they would need to order a more expensive st augustine or Zoysia grass.

As for our refund policy it is simple we have a NO refund policy on all grass. We do this simply because grass is a parishable product that we get in based on special order and need. If a customer does not take there grass it is not like we can just stick it on a shelf and resell it later. Also if a customer takes the grass and does not take care of is properly it is a living organism without proper care it will not survive .and we have no way of knowing how it will be cared for. As you can imagine, everybody says they did exactly as they were suppose to but the proof is simply in the result and there is always someone that had the best of intentions but did not water care for or install properly and wants to blame it on someone else. So this makes it neccisary to have a no flexability no refunds pollicy for everyone.

As for this specific situation with Mr Demeola, We loaded the perfectly good grass, spent my employees time and payroll dollars to take the grass to Mr Demeola's location using my fuel and milage on my truck unloded part of the grass before he then decided he did not want the rest due to his lack of knowledge of what to resonably expect from Bahia sod. We then had to bring the balance of the grass all the way back to our location and unload it there. He kept 20 pieced of the Grass. We went against our pollicy of NO Refund no matter what (since we had another person begging us to let them buy the very grass that MR Demelola said he did not want) And offered MR demeola a refund of his purchase minus what he actually got wich was delivery of ther grass and twenty pieces of grass that he kept. He is apparently unhappy because he does not feel he should have to pay for what he got. I don't think anyone would find that resonable. We fullfiled our obligaton and it would not be resonable to not expect him to pay for what he did take and get. We really have no obligation based on the situation and pollicy to returen any of his money.

We trulely do care about our cusomters and if the grass was actually bad we would take care of it, Unfortuantly the only issue in this situation is the customer does not have resonable expectations of what they are getting when they order Bahia Sod. We installed ourselves or sold 32 pallets of the same grass from the same field that came in on the same trucks and have had no other complaints at all.

If Mr Demeola would like the refund he has been offered I will still be happy to honor that refund.

Sod Central

Because We Care!!
Ocala Post conferred with two other sod companies and showed them photos.
An unnamed employee of one of the companies said, "We would never sell sod in that condition (referring to the photos)…not even Bahiagrass."
The second company concurred.
DeMeola contacted his financial institution and they are now handling the dispute.
[Updated on October 15, 2015, at 7:13 a.m.]
On October 14, 2014, after providing his bank with color photographs, DeMeola's financial institution decided in his favor.
"I will never order from them again," said DeMeola. "I thank everyone that helped me in this situation, especially my bank, who went to bat for me."
DeMeola said, "$139 may not seem like a lot, but when you are on a fixed income, it certainly makes a difference."
"I am glad it is over with," he added.
Please follow and like us: