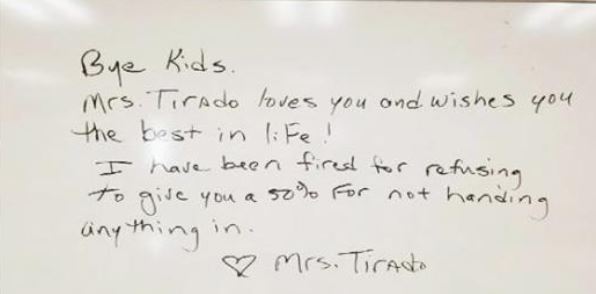 [Last updated on September 25, 2018, at 11:01 a.m.]
A Florida teacher says she was fired after she refused to give students a grade of 50 percent on an assignment that they never turned in.
On social media, parents say that "participation trophy syndrome" is now being extended to students in the form of grades.
Something experts say is a sure way to dumb down today's generation of entitled children.
The teacher, Diana Tirado, said she refused to give a 50 percent to a student who did nothing.
Tirado is a history teacher at West Gate K-8 School in Port St. Lucie, Fl.
According to Tirado, students had two weeks to complete the assignment.
Several students failed to turn in the assignment so Tirado gave them a zero. That is when she said she found out about a "no zeros" policy at the school. The school has a policy that states a student must not receive less than a 50 percent for assignments not completed or turned in.
School administrators were angry that Tirado gave the students a zero and fired her on September 14.
Tirado then wrote a message on a whiteboard in her classroom.
The message read, "Bye, kids. Mrs. Tirado loves you and wishes you the best in life! I have been fired for refusing to give you a 50% for not handing anything in."
On Facebook, Tirado wrote, "I'm so upset because we have a nation of kids who are expecting to get paid and live their life just for showing up and it's not real."
She said, "A grade in my class is earned."
Tirado is now calling for policy change.
In an email to Ocala Post, the school denied that they fired Tirado for giving students a zero, but refused elaborate on the subject.
According to Tirado, written in red in the school's handbook, it reads, "No Zero's — lowest possible grade is 50 percent."
She said it was pointed out to her after the fact.
Tirado says that administrators told her to her face, "never give a student a zero." She was then terminated.
Dozens of parents have turned to social media in Tirado's defense.
What do you think?