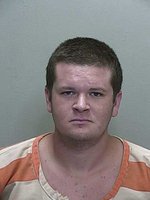 On August 21, 2013 we reported that the Sylvan Learning Center, located at 3231 SE Maricamp Rd., had been burglarized. Property was stolen and estimated to be worth $15,000.
During the investigation police learned that a substitute teacher for the Sylvan Learning center who had recently been written up for job performance was their number one suspect.
Devin Lawrence Most, 26,was suspected of selling three iPads to Re-Tech prior to the burglary taking place.
When deputies questioned Devin Most he confessed to taking the three iPads while employed at Sylvan. Most sold them for quick cash in order to pay his drug dealer. Most needed to support his expensive drug habit and he says he is addicted to pain killers.
Most denied having any involvement in the burglary of the Sylvan Learning Center, but a search of Most's room proved Most was lying. Investigators searched the home of Most's parents where Most lives and found 15 iPads, the Neat Receipt Scanner, and two electronic writing tablets were recovered. The 15 iPads were stuffed into a backpack.
After the items were discovered, Most was questioned again and he said, "I plead the fifth." However when detectives asked about other items that were still missing, Most slipped up and said, "that's all I took."
Most was consequently arrested and charged with three counts of dealing in stolen property, two counts of false verification of ownership to a second hand dealer, one count of burglary [commercial], and one count of grand theft. His bond was set at $10,000.
The Ocala Police Department had this to say, "The Ocala Police Department is happy to have recovered a great majority of the items taken so quickly and returned them to the Sylvan Learning Center for their use in educating youth in our community. Being able to make the arrest and return property to a victim in such a quick manner is of great importance to OPD and we commend Det. Hoover for a job well done."
If anyone has information on the location of any of the items not recovered or more information about the burglary, please contact Detective Hoover at 352-368-8283.