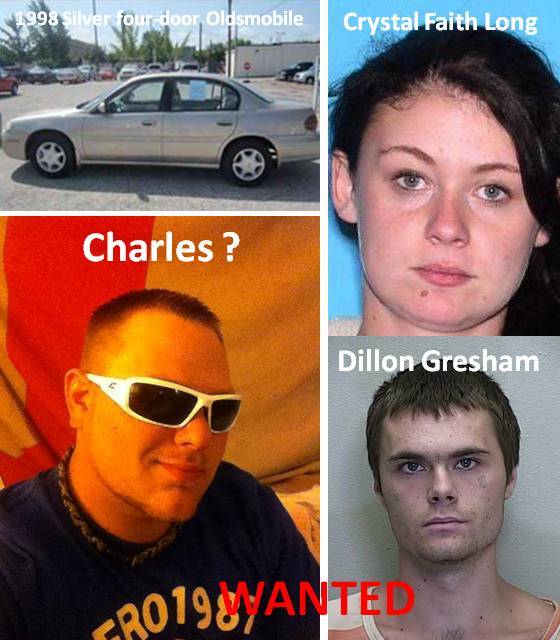 Citra, Florida — The Marion County Sheriff's Office is looking for three people of interest following the suspicious death of a Citra man.
They may be driving a silver in color 1999 four-door Oldsmobile bearing Florida tag number 535XQS and VIN number 1G3NB52M3X6305433. According to MCSO, the vehicle's rear reflector is missing.
The Marion County Sheriff's Office, in cooperation with the State Fire Marshal's Office, is investigating the suspicious mobile home fire that happened on NE 18th Avenue in Citra. The 64-year-old victim, whose identity is being withheld, was found just inside the entrance of the home by firefighters. The victim was transported to Ocala Regional Medical Center, where he died.
The actual cause of death has not yet been released.
Investigators said that Crystal Faith Long, 22, a person only known as Charles and Dillon Gresham, 23, lived in the rented mobile home. The three of them are the main persons of interest in this case.
Gressham has a criminal history for burglary and dealing in stolen property and In 2013 he was Baker Acted for unknown reasons. Gressham may become violent if he feels cornered. If you see him, call 911 immediately.
Charles is a white male between 220 and 240 pounds, possibly in his early to mid 20's. Detectives said he may be a cell phone tower technician.
Ocala Post could not obtain any information on Long and the inmate database does not show she has an arrest record inside of Marion County.
The 1999 Oldsmobile may be a crime scene, if you see it call authorities immediately.
Anyone with information can call the Marion County Sheriff's Office at 352-732-9111, Crime stoppers at 352-368-STOP, or text 274637 using keyword 368-stop. You can also visit www.ocalacrimestoppers.com.