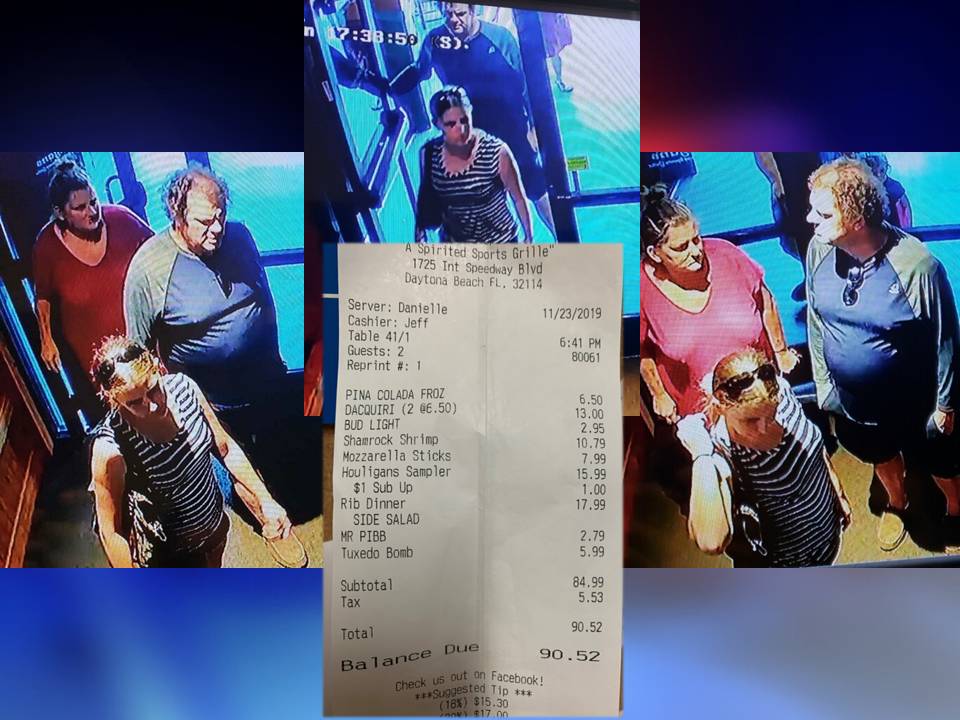 Three suspects – two women and a man – are being sought after they scammed three different east Volusia restaurants out of a night's dinner.
All three incidents occurred at a Houligan's restaurant in different cities in Volusia County; the most recent occurred on November 23, at 1725 W. International Speedway Blvd., Daytona Beach.
The trio entered the restaurant at approximately 5:30 p.m. and ordered a meal that totaled $90.52.
After the suspects finished eating, two of them went outside to smoke and the third proceeded to the restroom before exiting the restaurant.
After staff searched the parking lot, they found that the three had walked out without paying for their meal.
Sheriff Mike Chitwood is seeking information to help identify these individuals who are suspected in all three incidents.
The suspects are shown in surveillance photos taken at the Ormond Beach Houligan's, 1110 W. Granada Blvd. when that restaurant was victimized in October.
In September, the same type of incident occurred at the Port Orange Houligan's, 1396 Dunlawton Ave.
So far, only the Daytona Beach restaurant has filed a police report with the Daytona Beach Police Department.
In each case, the suspects ordered the same food and drinks and walked out without paying.
The suspects might live in another county.
Anyone with information about these suspects or any of these incidents is urged to call the Sheriff's Office non-emergency number at (386) 248-1777. Or to remain anonymous, call Crime Stoppers of Northeast Florida at 1-888-277-8477 (TIPS) or online via the P3Tips mobile app. You could receive a cash reward for your information.