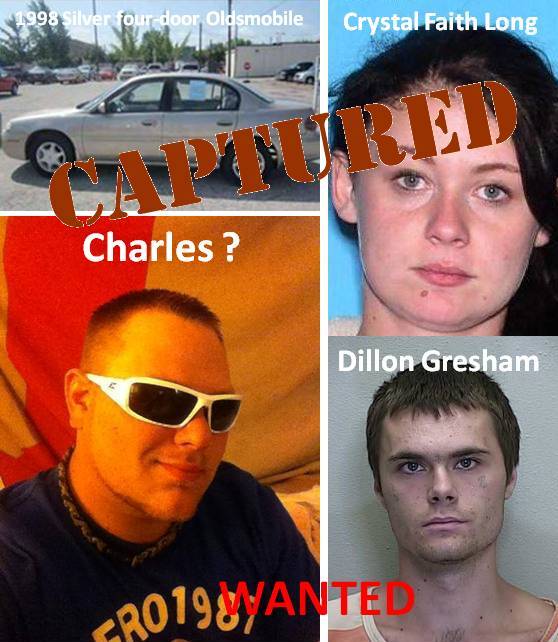 Ocala, Florida — Three suspects wanted for questioning in the suspicious death of Robert Hiles, 64, of Citra, have been captured.
The trio was arrested in Alabama late Thursday evening.
Angel Crystal Faith Long, 22, Dillon Gresham, 23, and Timothy Charles Mayhew, 20, are now off the streets and behind bars.
According to the Marion County Sheriff's Office, an anonymous caller told Detective Ollue Myers that the trio had shown up at an apartment while the caller was visiting a friend. The caller stated that Mayhew bragged about tying a man up with an extension cord and setting fire to his house while he was still inside.
Authorities also said that Mayhew forged Hiles' signature to the car title and was planning to sell the car while in Alabama.
MCSO contacted authorities in Alabama, who located the trio.
The Marion County Sheriff's Office, in cooperation with the State Fire Marshal's Office, is still investigating the suspicious mobile home fire that happened on NE 18th Avenue in Citra. Hiles was found just inside the entrance of the home by firefighters. The victim was transported to Ocala Regional Medical Center, where he died.
Today, Marion County Sheriff's detectives left for Alabama, where they will interview the three suspects.
Charges, in regards to Hiles' death, are still pending, however, Mayhew, Long and Gresham have been charged with grand theft auto.
According to investigators, the trio responded to a craigslist ad that Hiles had placed looking for roommates.
According to a Marion County Sheriff's Office press release, kiosks recently installed in high traffic locations, played a role in identifying the suspects.
The cause of Hiles' death has not yet been released.
The investigation is ongoing.