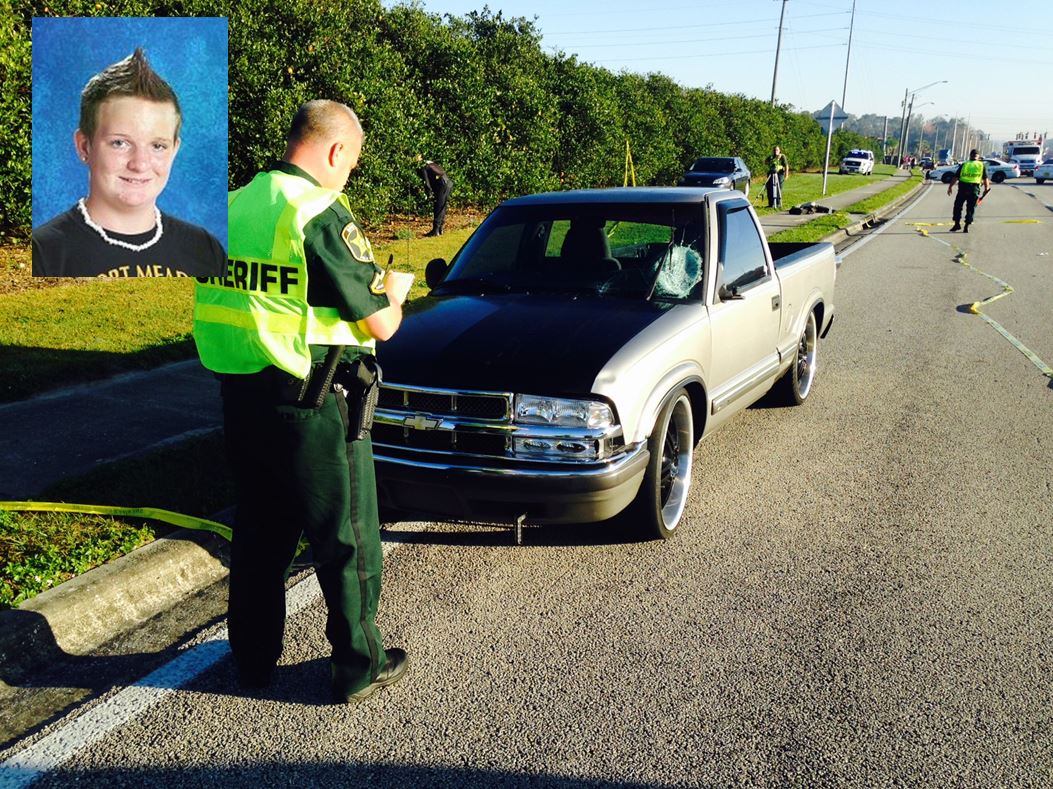 Eagle Lake, Florida — On Wednesday, January 21, 2015, around 6:10 a.m., Codey Kierstead, 15, from Lake Region High School in Eagle Lake, was walking to school when he decided to cross U.S. Hwy 17 southbound just south of the intersection at CR 540 (Winter Lake Road), in lieu of using either of the two crosswalks.
According to reports, Kierstead "darted out" into the path of a 1999 silver Chevrolet S-10 pickup truck that was traveling southbound on U.S. 17 in the outside lane.
The driver of the truck, Juan Camacho, 48, of Kissimmee, attempted to avoid striking the boy by veering to the right, but the driver's side of the truck struck the boy.
The boy was then struck by two other vehicles that were also traveling southbound.
Kierstead was struck by a 1996 maroon Chevrolet 2-door car, being driven by Taunja Moore, 48, of Winter Haven, and a 2008 white Chevrolet pickup truck, being driven by Gregory Crather, 55, also from Winter Haven.
All three drivers, and other passersby, stopped and attempted to render aid to the boy, but he succumbed to his injuries at the scene.
The boys' parents were notified, and arrived on the scene a short time later.
The Polk County Sheriff's Office chaplains and victims' advocates were also present at the scene.
The victim was originally identified by the Polk County Sheriff's Office as Codey Kierstead. A subsequent release indicated the victim's name had been legally changed to Codey Robert Means.
The family told investigators that they do not blame anyone, and hope people will talk to their children about traffic safety. Family members also said that all parents should remember to kiss their children and tell them you love them everyday; because you never know when something like this will happen.