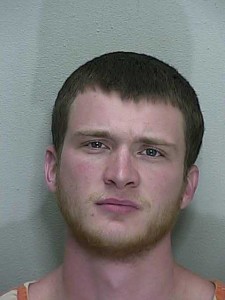 Silver Springs Shores — Much like Marion Oaks, Silver Springs Shores (SSS) has its share of criminals who prey on hard working citizens in the middle of the night.
Silver Springs Shores residents can now rest a "little" easier as a criminal responsible for string of burglaries, is now behind bars.
Detectives Aaron Levy and Brandon Spillman with the Marion County Sheriff's Office have been investigating multiple car burglaries in the SSS area since December of 2013.
On January 23, 2014 deputies responded to the area after a neighbor saw someone outside with a flash light and called 911.
When deputies arrived they located Arthur McDonald, 21, of SSS. In the past deputies had not been able to locate McDonald, he would disappear before they arrived, and now deputies know why. McDonald informed deputies that he lives in the area and knows the streets well.
McDonald admitted to at least 17 car break-ins in the area, stealing thousands of dollars in property from victims. He said he started his crime spree around Christmas, which coincided with the time detectives began their investigation.
McDonald was arrested and transported to the Marion County Jail.
He was booked on 17 charges, 12 of them felony charges for Burglary to an Unoccupied Conveyance.
McDonald is still behind bars, for now.