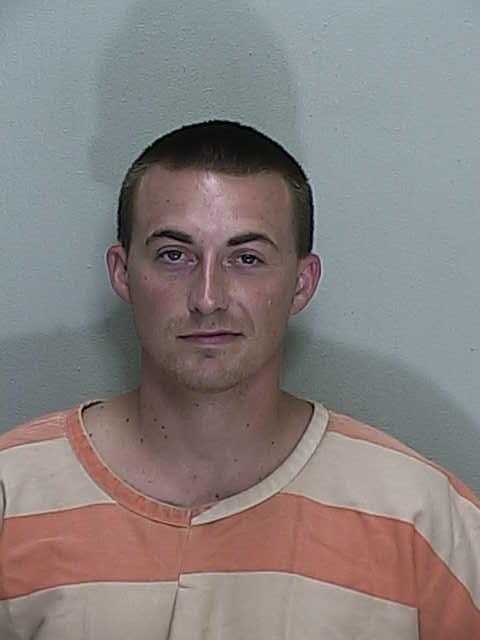 Ocala, Florida — A Silver Springs Shores man was arrested following a domestic dispute that turned violent.
According to reports, the victim told Deputy David McClure that her husband, Timothy Gray, 26, had beaten and strangled her.
The deputy noted that the residence was in complete disarray and that the victim had visible injuries and was bleeding from the mouth.
The victim stated that while she was sleeping, she was awakened by Gray hitting her because he was angry about her Facebook friends list.
During the dispute, Gray took the victim's cell phone and would not allow her to dial 9-1-1.
At that point, Gray began to strangle the victim and threw her on the bed. He then got on top of the victim and placed his knees on her chest and arms to prevent her from getting up from the bed.
The victim stated that after she was pinned down, Gray grabbed her face using his fingernails and squeezed.
At some point, the victim was able to break free, but Gray prevented the victim from leaving the bedroom by throwing her up against the wall.
The victim also attempted to reach the bedroom window so she could yell for help, however, Gray slammed her head into the shower wall before she had the chance.
Gray stated to the victim, "I am going to kill you b***h." He then grabbed the victim by the throat and began to choke her.
According to reports, the victim said that while Gray was choking her he said, "I need five minutes of quiet, calm time."
Reports state that when the victim finally made it to the front door, Gray blocked it and would not let her leave.
Gray stated to the victim, "You are not f*****g leaving." He then begged the victim not to call 9-1-1.
When she advised Gray she was still calling 9-1-1 and that their marriage was over, he fled the scene.
While Deputy McClure was on the scene, Gray called the victim's cell phone. The victim put the call on speaker so the deputy could listen in.
While the deputy was listening, Gray said, "I beat your a**." He then told the victim he was leaving the state.
Gray was located less than 24 hours later after he returned to the residence.
While Gray was being arrested, he stated he beat the victim out of self defense. He also claimed that the victim was the primary aggressor and she should be the one going to jail.
According to reports, Gray said that he has proof that the victim intentionally picked a fight as well as threatened to fight him. He stated that he has several text messages from the victim stating this fact.
The text messages have not yet been retrieved.
Gray was charged with Domestic Battery by Strangulation and Kidnapping-False Imprisonment.
He is being held at the Marion County Jail on $25,000 bond.