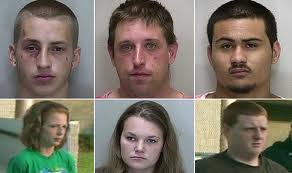 Ocala, Florida — Jury selection began Monday in the murder trial of Michael Bargo, a suspected ringleader of the group of teens who killed a teenage boy in Marion County over two years ago.
April 17, 2011 was the day a group of teens committed a gruesome murder that would forever change the lives of so many people. It was at the home located at 13896 Southeast 53rd Avenue, where Charlie Kay Ely-21, Justin Edward Soto-22, Kyle Hooper-19, Amber E. Wright-17, and accused ringleader Michael Bargo-21, beat, tortured, shot, and burned 15-year-old Seath Tyler Jackson.
Bargo will be the last to stand trial in the murder of Jackson as his four co-defendants are all serving life sentences after being convicted of first degree murder for their part in the killing. James Haven III-38 was ruled incompetent to stand trial on charges of accessory after the fact to murder for attempting to help the teens cover up the murder.
If Bargo is convicted he will be facing the death penalty, making him the youngest death row inmate in the state of Florida.
Defense attorney Charles Hollowman was asked this past week how Bargo was doing, he said,"Iguess he's doing as well as to be expected considering the fact that his life has barely begun and the suggestion is by the state that they want it to come to an abrupt end much sooner than he had hoped for."
When the jury selection started Monday morning, there were two faces that Bargo recognized in the second floor court room of Judge David Eddy. One, a former classmate of Bargo's, 20-year-old Shannon Herer and a former driver's education instructor from Belleview high School, were among the several groups of potential jurors.
Herer was excused from the jury because he knew the defendant. Once outside the courtroom, Herer said, "I used to eat lunch with Bargo and other classmates but I never had a class with him. He was a normal kid. He never stood out or anything."
Bargo's former instructor whose name is not being released as he is still among potential jurors told the judge that if he was selected as a juror, that he could remain impartial since he only supervised the driving portion of the course and not the classroom portion.