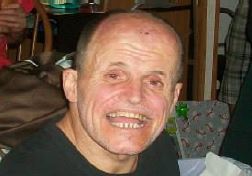 Ocklawaha, Florida — The Marion County Sheriff's Office and numerous volunteers spent today searching for a missing Ocklawaha man that was last seen on February 25, 2014. Today's search ended with zero results.
The Sheriff's Office said more than 70 professionals and volunteers participated in today's search, and the search will resume at 8 a.m., Friday, February 28, 2014 at the Moss Bluff Baptist Church.
Tonight, a reverse 911 system was activated to contact and alert residents within a 40 miles radius of John Radabaugh's home.
The Marion County Sheriff's Office, as well as family and friends said they are concerned about the temperatures dipping into the 30's tonight and were really hoping today would produce better results. Marion County Sheriff's spokesperson Judge Cochran said there is a since of urgency among everyone that has come together to search for Radabaugh.
The family said they fear that someone could use Radabaugh's child like mannerisms against him. Radabaugh's step mom said, "If anybody offered him candy or a toy he would go in their home, that's a big fear of mine." Adding, "Somebody who is not for the right thing may have him. So if you have him please let him go."
If you see Radabaugh you are urged to call 911 immediately.