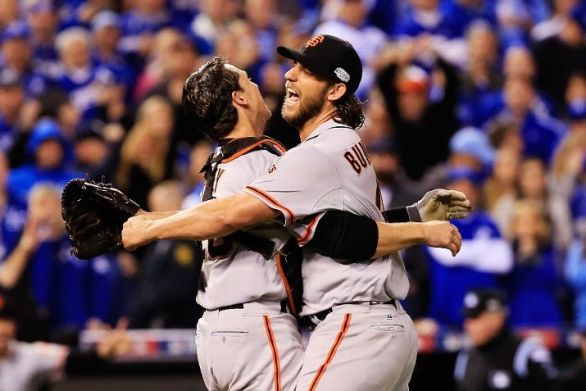 The San Francisco Giants were able to claim their third World Series title in five years on Wednesday night, October 29, 2014. San Francisco won the series 4-3 and ended any hopes of the Royals getting their first World Series title in two decades.
Madison Bumgarner came in relief and pitched five scoreless innings on only two days rest. Bumgarner recorded the save and capped off an already historic World Series, with another stellar outing. Bumgarner finished the World Series with 2 wins, 16 IP and a 0.56 ERA earning him the World Series MVP. Bumgarner lower his career ERA in the World Series to a 0.25 allowing only 1 run in 36 career innings.
"What a warrior he is, and truly incredible what he did throughout the postseason," Giants manager Bruce Bochy said of Bumgarner. "I just told him I just can't believe what he accomplished through all this. He's such a humble guy, and we rode him pretty good."
Once Bumgarner entered the game the Royals were able to only muster 2 hits. The last hit Bumgarner allowed was a single to center field that due to an error allowed Alex Gordon to go all the way to third with two outs in the 9th.
Salvador Perez ended the game by fouling out to the third baseman Pablo Sandoval, who immediately fell to the ground after in celebration after catching the foul ball.
—By Brandon Wilson—