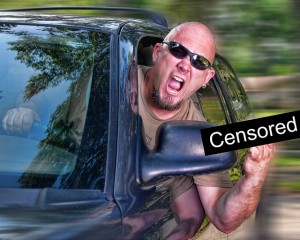 Tampa, Florida – A woman whom was driving and minding her own business was being tailgated by another driver on State Road 41 in Tampa on March 24, 2014.
The woman, whom does not want to be identified pulled out her cell phone and captured Jeffrey White, 33, of Tampa relentlessly tailgating her.
She was driving 55 in a 50 MPH zone in the left lane intending to make a left hand turn to her destination, according to the Florida Highway Patrol.
The woman says she didn't mouth off to White, brake check him or provoke him in any way.
In the video White can be seen speeding past the woman and once he realizes she was recording, he slowed down to show her the sign for "you are number one."
White held up his middle finger long enough to be sure the woman got his point, however the woman says she didn't even realize White had given her the middle finger until she watched the video at a later time.
White then "stomped" the gas and sped off causing his truck to slide due to the wet slick roads.
White veered off the roadway into the left shoulder, hit the grassy median and spun around where his truck came to rest facing the opposite direction.
The woman pulled over and called 911.
White fled from the scene, but thanks to the video captured by the woman FHP officers and the Hillsborough County Sheriff's Office were able to track him down at his Tampa Home.
White was arrested and charged with Leaving the Scene of an Accident Involving Property Damage, Reckless Driving and not wearing a seat belt.
Please follow and like us: