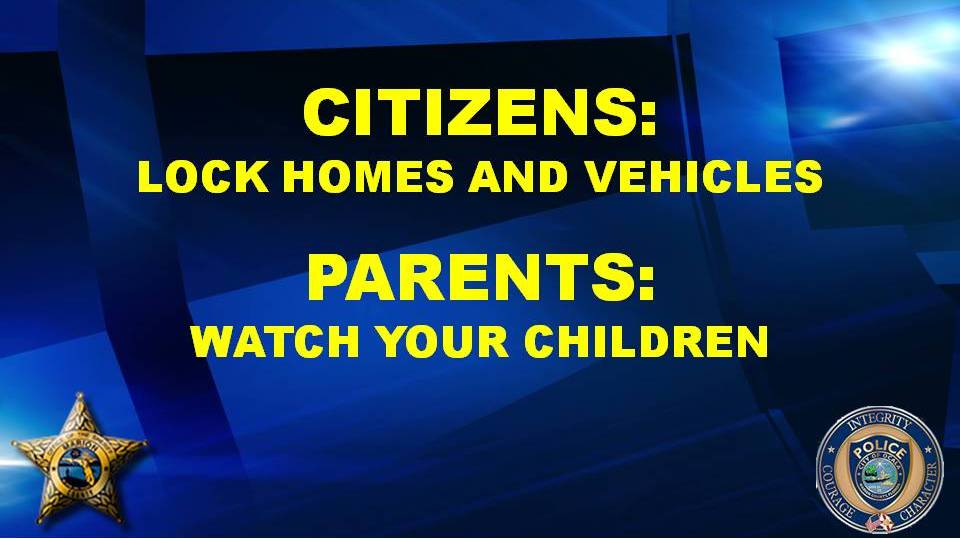 Ocala, Florida – It's called "Buckin." That's a technique thieves use when trolling for unlocked vehicles. "The thief moves about a neighborhood, checking vehicle doors to see if any are unlocked," said Judge Cochran, Marion County Sheriff's Office Public Information Officer. "That's the buckin' element."
During a recent vehicle burglary investigation, Marion County Sheriff's Detectives arrested a 16-year-old who admitted to buckin' and doing it because he was bored. The teenager told detectives he would walk up to vehicles to check doors and, if the doors were locked, he moved on. But, in one incident, the teenager found an unlocked vehicle and stole two winning lottery tickets. Detectives said the teen gave one lottery ticket to his mother, who cashed it. Detectives working with both the store that sold the tickets and state lottery security officials – were able to get video of the person cashing that ticket.
Additional information led to the identity of the woman. She told detectives her son gave her the ticket and gave detectives permission to speak with her son. He admitted to the crime. The juvenile was arrested and transported to the Marion County Juvenile Detention.
He will face charges of burglary and petit theft. A second teen may have the other ticket.
In Marion County, 93% of car burglaries are of unlocked vehicles.
Detectives said when students are out of school, vehicle burglaries rise by 30% and, overall burglaries rise by 24% – as compared to the rest of the year.
Despite previous warnings, many parents are allowing their children to roam the streets at night. While the problem is mostly with teens; children as young as 9-years-old have been seen out past 11 p.m. without any adult supervision.
According to a Florida Department of Juvenile Justice spokesperson, "unsupervised Juveniles are the most likely to commit crime, in general, so it seems almost obvious that crime may peak during summer months when students are off from school with idle hands."
Authorities said it is the responsibility of the parent to ensure their children are not roaming the streets at night. Know where your children are as well as who their friends are.
If a child presents a parent with property unknown to them, like lottery tickets; question the child. Where did they get the property? Use common sense. What would a 16-year-old be doing with winning lottery tickets?
The Ocala Police Department has already warned the public – twice in two months – about the curfew.
The state of Florida does have a curfew law, but unlike the City of Ocala, Marion County has not adopted the law. Authorities say even though Marion County has not adopted the law, parents should use their common sense. For the safety of the children; keep them from walking the streets after dark.
Authorities say that homeowners are fighting back.
Many of the juveniles arrested have been found with weapons. And a homeowner has the right to protect their property along with their family and home in the state of Florida.
In the summer of 2013, a home owner in Marion Oaks pulled a large caliber handgun during an attempted burglary involving six teens. Five of the suspects fled, while one was held at gunpoint.
Kenneth Irving Vaillant, 19, was eventually thrown to the ground after attempting – several times – to reach into the pocket of the "hoodie" he was wearing at the time. After deputies arrived, it was learned that the suspect was armed, and with more than one weapon. Vaillant was charged with multiple felonies.
Two of the five teens that fled, ages 15 and 16, were caught after being tracked by a K-9. They admitted to more than 40 burglaries in the Marion Oaks Area.
The homeowner was not charged with any crime.
The Ocala Police Department wants to remind the community that the City of Ocala has adopted the law for minors and that the law holds the parents responsible for making sure their child/children don't violate this law.
Authorities say it is clearly not sinking in. Parents will start being held accountable for their Childs actions. A child is the responsibility of the parent. And depending on the type and severity of the crime a child commits; a more serious action – other than a fine – could be taken against a parent.
Minors prohibited in public places and establishments during certain hours; penalty; procedure:
(1)(a) A minor may not be or remain in a public place or establishment between the hours of 11:00 p.m. and 5:00 a.m. of the following day, Sunday through Thursday, except in the case of a legal holiday.
(b) A minor may not be or remain in a public place or establishment between the hours of 12:01 a.m. and 6:00 a.m. on Saturdays, Sundays, and legal holidays.
(2) A minor who has been suspended or expelled from school may not be or remain in a public place, in an establishment, or within 1,000 feet of a school during the hours of 9:00 a.m. to 2:00 p.m. during any school day.
(3) A minor who violates this section shall receive a written warning for her or his first violation. A minor who violates this section after having received a prior written warning is guilty of a civil infraction and shall pay a fine of $50 for each violation.
(4) If a minor violates a curfew and is taken into custody, the minor shall be transported immediately to a police station or to a facility operated by a religious, charitable, or civic organization that conducts a curfew program in cooperation with a local law enforcement agency. After recording pertinent information about the minor, the law enforcement agency shall attempt to contact the parent of the minor and, if successful, shall request that the parent take custody of the minor and shall release the minor to the parent. (Depending on the reason the minor was taken into custody)
Authorities said parenting should always begin at home.
The Ocala Police Department said, "We appreciate the cooperation from all parents and minors."
Please follow and like us: