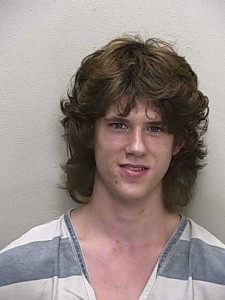 Ocala, Florida — On January 5, 2014 at approximately 7 p.m. Deputies Franco Porcelli and Jason Hunt responded to a traffic accident that happened on East Highway 40 and SE 162 Terrace.
Deputy Porcelli was in the parking lot of Maries Famliy Diner when a man later identified as Michael Lakosky approached Deputy Hunt on a red riding lawn mower. Lakosky asked Deputy Hunt what was going on, due to all of the emergency vehicles. Deputy Hunt responded, "there was a car accident."
According to reports, Deputy Hunt asked Lakosky where he was headed riding a lawn mower. Lakosky responded, "to the bar to have a few beers." Lakosky said, "my license are suspended, and since I have a headlamp on my head to light up the ground, you guys (law enforcement) cannot touch me." Lakosky then proceeded to the bar.
After the accident scene was cleared, Deputy Porcelli was sitting stationary at the 15900 block of East Highway 40 running radar. At approximately 8 p.m., Deputy Porcelli saw a man with a head lamp driving a red riding lawn mower down Highway 40, according to reports.
The driver of the lawn mower was Lakosky.
Lakosky rode the lawn mower in the direction of Deputy Porcelli's marked patrol car, at that time Deputy Porcelli conducted a "lawn mower stop." According to reports, Lakosky immediately began to make excuses as to why he was driving the lawn mower and told Deputy Porcelli he had the right to drive it.
Deputy Porcelli ran Lakosky's name and quickly learned he did not have a valid driver's license and was on inmate release status from Dixie County for Lewd and Lascivious Molestation of a Female Under 12.
In the state of Florida it is illegal to operate any gas powered vehicle or electric motorized vehicle on a highway if the drive does not possess a valid driver's license.
Lakosky was arrested and transported to the Marion County Jail, he was issued a criminal traffic citation for Driving Without a Valid Driver's License.
Lakosky was not charged with DUI. The riding lawn mower was towed away by Mom's Towing.
Lakosky was released from jail on January 6, 2014 on a $500 bond.