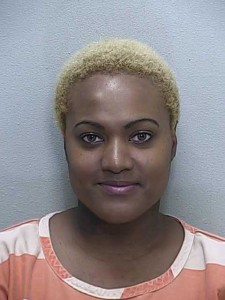 Ocala, Florida — On January 7, 2014 Officer Friedman responded to the 2600 block of NW 1st Avenue in response to a domestic battery that had occurred the day before.
Officer Friedman spoke with a man that said on January 6, 2014 he went to the house of Kendra L. Vandyke,31, to have sex with her; Vandyke is the mother of one of the man's children.
The man stated while he was at Vandyke's house one of his other children's mother arrived and an argument ensued between Vandyke and the mother.
According to reports, Vandyke took the man's clothes and car keys and ran outside, leaving him in the house naked. The man said Vandyke came back into the house shortly after but refused to return his clothes.
The man stated that Vandyke grabbed a two steel pots from the kitchen and threw them one at a time. One of the pots struck the man in the knee, splitting it open. As he stood there bleeding, Vandyke still refused to return his clothes. The man drove himself to the hospital after Vandyke gave him his clothes back. He received 10 staples to close the laceration.
Reports show that the man did not report the incident right away because Vandyke was holding several sets of car keys belonging to customers of his automotive business for ransom. The man said once he was able to retrieve the keys, he immediately called police.
Vandyke admitted to throwing the pots, but denies that they hit the man.
Vandyke tried to have the man arrested by claiming he punched her in the head, and she was having her friends harass and threaten the man. Vandyke did have a knot on her head. Police investigated and were able to determine that the knot was actually a cyst that Vandyke has had for years, and not a knot.
Vandyke has had multiple arrests for battery, and injunctions for violence filed against her from other relationships, however many were thrown out for lack of evidence and or witness testimony.
It is unclear if the children were home at the time of the incident.
Kendra Vandyke was arrested and transported to the Marion County Jail.
She was charged with Felony Domestic Aggravated Battery.