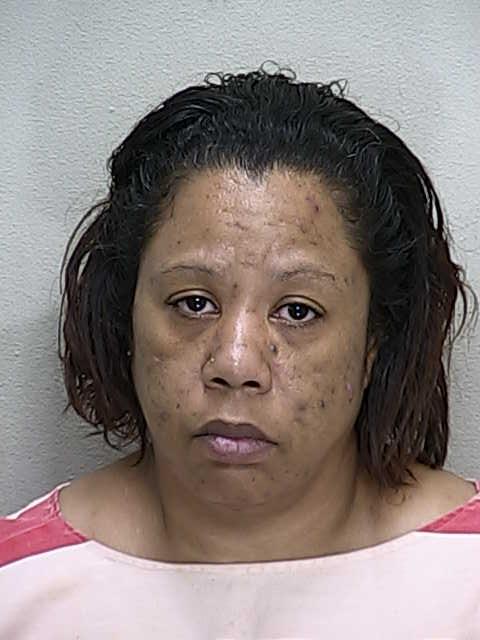 Ocala, Florida — At approximately 12:30 p.m., Saturday, January 30, Marion County Sheriff's deputies responded to a call referencing a strong armed robbery that had just occurred in the parking lot of the Walmart, located at 9570 SW Highway 200, Ocala.
According to a press release, A 79-year-old female victim stated she was putting items in the trunk of her car when the suspect, later identified as Antonette Florido, 44, approached her and suddenly snatched her purse from her shoulder.
After a short struggle, Florido was able to take the purse, which contained the victim's wallet, cash, credit cards, and cell phone for a total loss of $500.
The victim said that she chased Florido and screamed for help.
Florido attempted to get into a white car and flee the parking lot when several bystanders intervened and attempted to get Florido out of the car.
Two citizens were struck by Florido's vehicle when she backed up in an attempt to escape.
Florido eventually fled the scene, but citizens were able to get a description and a license plate number before she fled.
During the investigation, detectives obtained store surveillance video showing Florido filing her taxes at the Jackson Hewitt Tax Service kiosk located inside the Walmart.
The Jackson Hewitt employee said that Florido left after she found out she wasn't getting any money back on her taxes.  The employee was able to provide Florido's identification and address for the investigation.
Detectives then responded to the area of Florido's residence and located her nearby, cleaning out the car she used to commit the robbery.
Florido was positively identified by the witnesses on the scene. She was arrested and transported to the Marion County Jail.
The victim's purse and cell phone were found near the 7700th block of Southwest Highway 484. However, her credit cards and cash were not found.
Crack cocaine and several pipes were located in Florido's purse.
Florido was charged with Robbery by Sudden Snatching, two counts of Aggravated
Battery with a Deadly Weapon, Possession of Cocaine and use or Possession of Drug Paraphernalia.
Florido denied being at the Walmart to file her taxes.
She told detectives that she had allowed a friend to borrow her car and when it was returned she found the cocaine and drug paraphernalia in her vehicle.
Florido's is being held on a $24,500 bond.