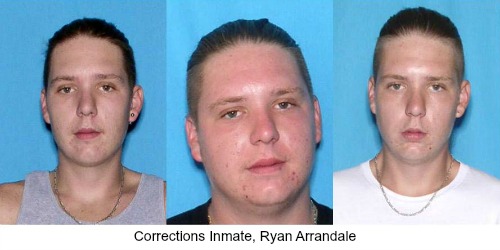 West Palm Beach, Florida — Florida Department of Corrections Inmate, Ryan Arrandale, 25, white male, 6'01", 215 lbs., scar on left wrist, wearing blue pants and blue shirt ran out the back door of the Florida Department of Corrections Facility located at 261 Fairgrounds Road, West Palm Beach.
Authorities have indicated that Inmate Arrandale has a history of Burglary. Arrandale may try to obtain a change of clothes and possibly money, therefore citizens who live in the area should be aware of their surroundings.
Deputies have a perimeter set up in the area utilizing K-9's, helicopter, and patrol.
It is unknown if Arrandale has any family in the area.
Arrandale may try and flee to other parts of Florida or possibly attempt to leave the state.
If anyone comes into contact with Ryan Arrandale or knows of his whereabouts is urged to call 911 or Crime Stoppers at 1-800-458-TIPS.
This is a developing story and we will keep you informed of any updates.