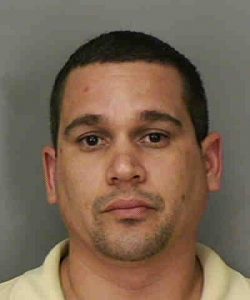 Polk County, Florida — A probation officer in Polk County has been arrested after he started a personal relationship with a probationer to whom he was assigned for supervision.
According to the Polk County Sheriff's Office, 38-year-old Jorge Martir, exchanged over 700 text messages and emailed naked pictures of himself to her from his personal account. The probation officer was questioned about the situation at which time he confessed to the texts and nude photos.
Martir told investigators that on another occasion he went to her motel room in Lakeland one evening to conduct a curfew check on the probationer and found that she was alone, upset, and crying according to the Sheriff's Office.
The probation officer reported that he talked with the woman for a while and then returned to her room after midnight to make personal contact with her.
During this visit, Martir was in his personal vehicle and carrying his service weapon. Martir admitted that he removed his Smith and Wesson 9mm from its holster, unloaded it, and handed it the probationer. He stated that she handled the firearm for approximately two to three minutes and was looking at the sights.
Part of the woman's probation states that since she is a convicted felon, she is forbidden to handle any firearm by Florida Statute. Martir admitted that he knew she has been on felony probation since April of 2013, but allowed her to handle the firearm despite the terms of her probation.
Martir was arrested on Monday, September 30, 2013 by PCSO detectives and was charged with one count of Principle in the First Degree for Possession of a Weapon by a Convicted Felon. He handed the firearm to the probationer and had knowledge of the fact she was on felony probation.
He was booked into the Polk County Jail and has been released on a $5,000 bond.