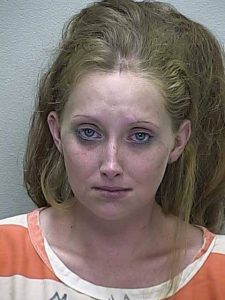 Ocala Police responded to the Kangaroo Express located at 3873 SW College Road, regarding a woman sleeping inside her van with an infant child inside.
An employee of the convenience store, Rebecca Kiefer, 24, called police stating that there was an unknown white female, sitting inside a purple van in the parking lot and appeared to be sleeping. Kiefer also advised police that there was an infant inside the vehicle.
When Officer Justin Caruthers arrived at the location he observed a purple Plymouth minivan in the parking with the driver's door open.
He approached the vehicle and discovered a white female, later identified as Philomena Maria Melton, 23, asleep in the driver's seat, according to reports.
Melton had a plastic baggy with a green leafy substance sitting in her lap in plain view, along with an open cigar wrapper that also contained a green leafy substance.
Officer Caruthers also discovered that she had her 1-year-old daughter in the back seat.
The officer attempted to wake Melton, but initially had negative results until she finally awoke several minutes later.
When Melton woke up and realized there was a law enforcement officer standing there, she immediately grabbed the plastic baggy containing the green leafy substance and the cigar wrapper in an attempt to place it in her purse, which was sitting on the passenger side floorboard out of view of the officer.
EMS was called out to the scene to check on Melton due to her disorientation, and while EMS was en route, Officer Caruthers was able to positively identify Melton via D.A.V.I.D., a police database.
Officer Bertalan arrived on scene and stood by with Melton while Office Caruthers removed the substance from Melon's purse. An evidence technician responded and performed a subsequent presumptive field test, which revealed that the substance tested positive for synthetic marijuana.
Officer Caruthers spoke with Kiefer inside the store, who stated that prior to her calling the police she had observed Melton asleep in her vehicle with the driver side door open and had seen the child in the back seat. She said she went outside to wake Melton up, and although it took several minutes to do so, when Melton finally awoke, she advised Kiefer that she was alright. Kiefer went back inside the store and Melton immediately fell back asleep with the driver's door still open, at which time she called police, stating she was concerned for the welfare of the child.
According to police, when EMS arrived Melton appeared to be more responsive and when the officer asked her how long she had been asleep prior to him waking her, she said she didn't know. She advised the officer that she had smoked synthetic marijuana earlier in the day.
Due to Melton being asleep, the officer felt that she failed to provide the care, supervision, and services necessary to maintain the physical and mental health of the child and felt that the child's total well being was put in jeopardy, as the vehicle was not only unsecured, but the driver's side door was open and the child could have easily been harmed or abducted from the vehicle without Melton's knowledge.
The on call DCF Investigator Deidre Hart was contacted in reference to the case, which she later determined that the child's father was free to take custody of her.
Officer Stacey Hunter transported the baby to the Ocala Police Department to await the arrival of her father.
Melton was arrested and charged with one count of Child Neglect without Great Bodily Harm and one count of Possession of Synthetic Drugs Inside Ocala City Limits.
She was booked into the Marion County Jail and is being held on a $5,250 bond.