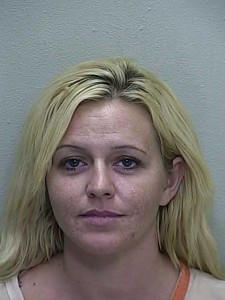 Dunnellon, Florida — A fourth arrest has been made in the largest synthetic marijuana bust in Marion County history.
On Tuesday, September 17, 2013, authorities arrested 30-year-old, Patricia Elkhateeb in connection with the K-2 operation that took place at a closed doughnut shop in Dunnellon.
According to reports, agents recovered documents inside an office located in the northwest side of the building, which was determined to belong to Patricia Elkhateeb.
The documents show that Elkhateeb did in fact have knowledge of the operation and was renting the building from an individual for the sole purpose of manufacturing synthetic marijuana.
Recovered in the office were numerous documents believed to be ledgers recording the sales of synthetic marijuana packages, along with multiple invoices addressed to Elkhateeb, stating "rent due" for the months of July and August 2013 for the building located at 10155 Southwest County Road 484.
Agents also recovered a hand written note from the owner of the building, identified as Tony O'Connor, dated August 28, 2013, addressed to "Patricia" that read, "Please ensure that these bills are paid on time to avoid the power being cut off."
Agents placed a call to O'Connor, who confirmed that Patricia Elkhateeb was renting the property from him.
Elkhateeb was arrested and charged with one count of Manufacturing A Synthetic Narcotic, one count of Unlawfull Possession Of A Controlled Substance With Intent To Distribute, one count of Possession Of Drug Paraphernalia, and one count of Leasing A Property For Manufacturing A Controlled Substance.
She was booked into the Marion County Jail and has been released on a $151,500 bond.