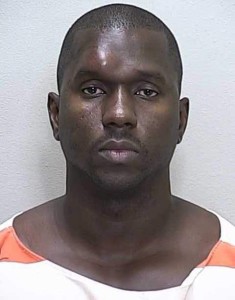 Ocala, Florida — On September 18, 2013 the Orange County Sheriff's located a package that contained cocaine. The cocaine had been placed in a steel picture frame that had been welded and turned into artwork. It was being shipped via FedEx.
The package was addressed to an Oscar Ortiz of 34 Fir Dr. Trc. Ocala, Fl 34472.
Agents from the Orange County Sheriff's Office delivered the package to the Unified Drug Enforcement Strike Team in Ocala. The team then set up an operation to conduct a controlled delivery of the item to the intended recipient.
A black male answered the door and identified himself as Oscar Ortiz, he signed for the package using that name.
Agents then watched as "Ortiz" loaded the piece of artwork in to the bed of a blue GMC pickup truck. Agents then followed the truck to Green Gables Apartments located at 2600 SW 10th St. Apt #2004. "Ortiz" dropped off the package and drove away.
Agents then served search warrants on both the "Ortiz" address and the recipient address at Green Gables.
A Black male later identified as Gabriel Ayala-Quinones, 36, was located sitting at the kitchen table with tools trying to cut the steel frame open.
The steel picture frame was lying on top of the box it was delivered in and on the counter was a large amount of U.S. money.
Agents found 800 grams of cocaine in the kitchen freezer.
Ayala-Quinones was arrested and taken to the Marion County Jail.
Agents transported the frame, 800 grams of cocaine, and the cash back to the Ocala Police Department where the frame was disassembled.
The frame contained 5.5 kilos of cocaine. In total agents recovered 5100 grams of cocaine and $10,500 in cash.
Quinones was charged with one count of Trafficking Cocaine over 400 grams. His bond was set at $250,000.
We do not have any further information on "Ortiz".