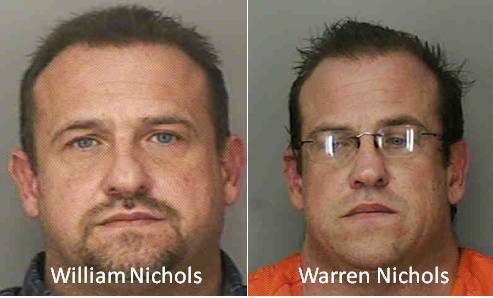 Winter Haven, Florida — Polk Fire Rescue Paramedic Warren "Nick" Nichols, 49, was arrested after authorities were made aware of a sexual relationship he had been having with a 17-year-old female.
The mother of the 17-year-old girl found text messages between Warren and her daughter. The mother confronted her daughter who denied she was in a sexual relationship with Warren.
Warren was dating and living in the home with the mother for seven months at the time of the incident.
On December 2, 2013 the daughter, now 18, gave a recorded statement in which she said she was involved in a sexual relationship with Warren for approximately one month before she turned 18. The girl stated that her mom took her cell phone on November 11, 2013 and saw text messages between her and Warren. The girl said her mom then asked if she was in a relationship with Warren and she said, "no."According to the girl, her mom became enraged then picked up a Glock semi-automatic handgun off of the bedroom nightstand, pointed it at her, and asked again if she was having a relationship with Warren. The girl stated it was at that time she admitted to being involved in a relationship with Warren a few months prior to her mom finding the texts. The girl told investigators that during the relationship with Warren she texted him one nude picture of herself.
After the text messages were found, the mom continued to allow Warren to stay in the house. The mom told authorities she became "the warden" and made sure Warren and her daughter did not communicate via text, and they were not left alone together except for four hours on Thanksgiving night.
Authorities later discovered that Warren's twin brother William Nichols,49, a supervisor with the Polk County Sheriff's office knew about the relationship. William had texted his brother and told him he didn't condone a 49-year-old man having a relationship with a then 17-year-old girl. William told authorities that he was told and was under the impression that information about his brother had already been relayed to investigators, but he didn't confirm the information had been passed on. William told authorities he in no way approved of the relationship. William also told authorities that his brother Warren stated that the mom had "manic" periods where she (the mom) could not decide if the allegations had actually occurred. William told authorities that the mom wanted to get marry his brother Warren, and the mom got angry when Warren said no. William said it was at that time the mom started suggesting that Warren was having an inappropriate relationship with her daughter. According to reports, William told investigators that Warren told him that the mom was very abusive toward her daughter in the seven months he dated her (the mom) and he felt sorry for her (the daughter). William said the mom would repeatedly send his brother text messages accusing him of having sex with her daughter, and in the the same text message say I love you.
F.S.S. 39.201 (c) states: Any person who knows, or has reasonable cause to suspect that a child is the victim of childhood sexual abuse or the victim of a known suspected juvenile sexual offender, shall report such knowledge or suspicion to the proper department.
F.S.S. 39.205 Penalties relating to report of child abuse, abandonment, or neglect states, "A person who is required to report known or suspected child abuse, abandonment, or neglect and who knowingly and willfully fails to do so or who knowingly and willfully prevents another person from doing so, commits a felony of the third degree."
Bill Nichols was hired by the Polk County Sheriff's Office in February 1988 as a deputy sheriff; he was promoted to Sergeant in 1998; he was promoted to Lieutenant in 2006. His most recent assignment was in the Central District (Winter Haven area). His most recent salary was $73,787. He resigned effective immediately upon his arrest.
Warren Nichols has been booked into the Polk County Jail and charged with 30 counts Unlawful Sex With Certain Minors, where he will remain on no bond until a first appearance.
Warren was also charged with one count Domestic Violence with a Battery for an altercation that occurred between him and the mother in regards to the alleged sexual relationship with her daughter.
According to reports, the mom knew about the alleged sexual relationship in early November but did't report it to authorities until December 2, 2013.
The mother was charged with one count Child Abuse for pointing a handgun at the girl during an altercation about the ongoing sexual relationship between the girl and Nichols. Her name and photo have not been released.
Bill Nichols was booked into the Polk County Jail and charged with one count Failure To Report Suspected Child Abuse (F-3). He was released after posting $2,500 bond.