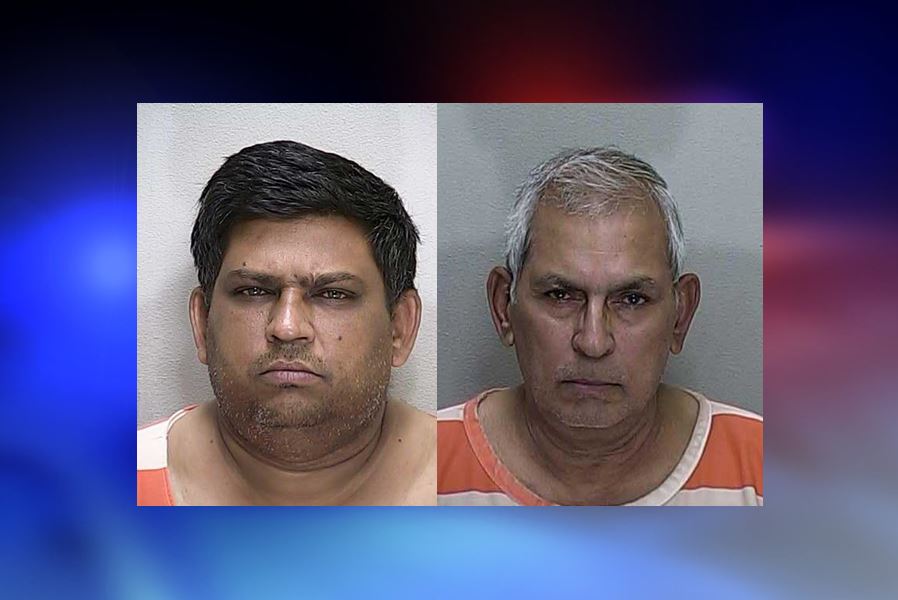 Ocala, Florida — Marion county Sheriff's detectives have arrested two business owners following and undercover investigation that span from June 6 to June 18, 2015.
Detectives said that they had received information that indicated the owners of A to Z Discount Beverages, located at 2626 North Magnolia Avenue, Ocala, were dealing in stolen property and selling synthetic marijuana.
On Thursday, June 18, the Marion County Sheriff's Office Crime Suppression Division arrested Dineshkumar Patel, 41, and Bhogilal Patel, 67.
According to reports, undercover Property Crimes detectives were able to conduct several transactions where Dineshkumar believed he was purchasing stolen property. Dineshkumar's purchases included gift cards, clothes, light bulbs, and power tools.
Items include:
One Dewalt Hammer Drill valued at $139
One Dewalt Drill Valued at $119
One Dewalt reciprocating saw valued at $159
One Troy Built 2800 PSI pressure washer valued at $249
The total value of the alleged stolen items came to $666.
Dineshkumar had specifically requested these items from an informant. The items were legally purchased, and then sold to Dineshkumar as stolen merchandise. He had planned to resell the items from within his store.
Tactical Investigations Unit detectives reported that they were also able to make three (3) purchases of synthetic marijuana from Dineshkumar and Bhogilal.
Following the purchases, detectives obtained and executed a search warrant at the business on Thursday afternoon.
The items that Dineshkumar had purchased were recovered, as well as 42 grams of hydrocodone and approximately 220 grams of synthetic marijuana.
Dineshkumar was charged with Grand Theft, Dealing in Stolen Property (x4), Trafficking in Hydrocodone, Possession of Synthetic Marijuana, and Sale of Synthetic Marijuana.
He was released from jail on a $82,000 bond.
Bhogilal was charged with Possession of Synthetic Marijuana (x2) and Sale of Synthetic Marijuana (x2).
He was released from jail on a $30,000 bond.