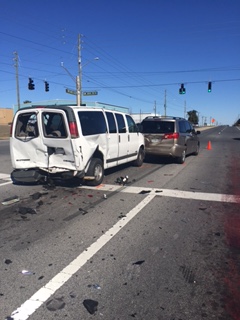 Ocala, Florida — The Ocala Police Department is investigating a traffic crash that occurred at the intersection of Southwest 60th Avenue and Southwest 20th Street.
One person was killed in the crash.
According to a press release, a man slammed into the rear-end of a Chevy van, which then slammed into the back of a Toyota Sienna minivan.
The man driving the car was pronounced dead at the scene. His identity has not been released at this time.
Huma Ali, 31, who was driving the Chevy van, and her children, Zahneb Ali, 11, Zareena, 10, and Manahil Huma, 7,were trasported to West Marion Community Hospital with non-life-threatening injuries.
Sarai V. Esparza, 25, who was driving the Toyota, and her two children, Santiago Lopez, 2, and Itzel Esparza, 3, refused medical treatment.
All occupants of the Chevy and Toyota were wearing their seat belts.
The investigation is ongoing.