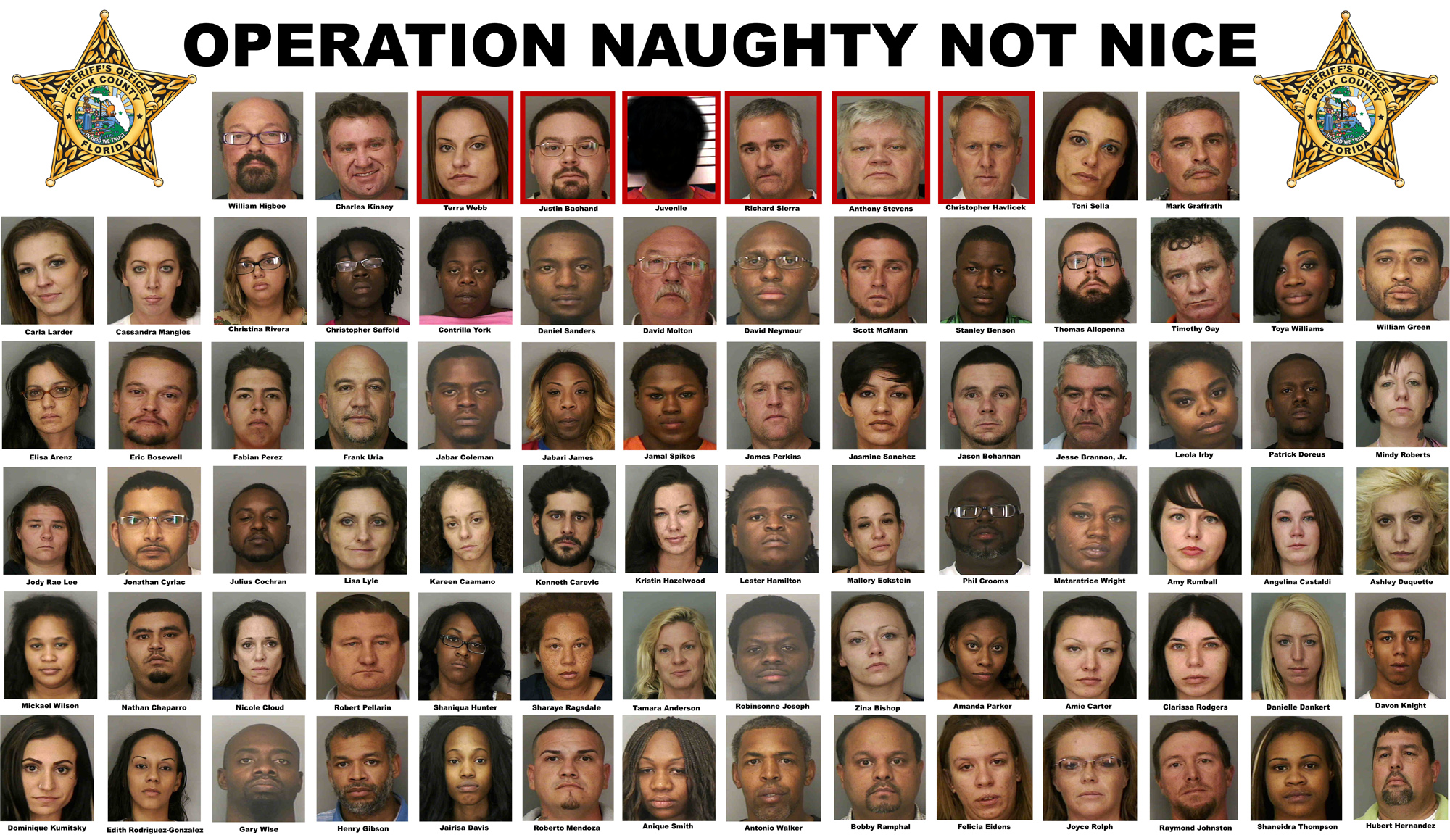 Polk County, Florida — This is one naughty list even Santa can't forgive.
Polk County Sheriff's Office detectives conducted a four-day prostitution investigation that resulted in the arrests of 80 suspects on a variety of charges, including Soliciting for Prostitution, Soliciting Another to Commit a Lewd Act, Deriving Support/Proceeds from Prostitution, and Aiding/Abetting Prostitution.
The investigation was conducted at an undercover location in Polk County from Thursday, December 12th to Sunday, December 15th, 2013. Detectives answered and placed ads on Internet websites such as Backpage.com. Undercover detectives arrested 24 men who were soliciting ("Johns"), 33 prostitutes, 13 who were Aiding and Abetting Prostitution or Deriving Proceeds from Prostitution, and 10 others for a variety of drug and other charges.
Detectives say 66 percent of those arrested (53 out of 80) have previous criminal histories including charges such as attempted murder, aggravated stalking, kidnapping, robbery, child abuse, battery, theft, fraud, and drug crimes. In total, they had been charged with 395 crimes, an average of 7 ½ crimes each.
"Prostitution is not a victimless crime. From the spread of disease and destruction of families to human trafficking, prostitution is bad for our community. We arrested a 16-year-old girl from Orlando on Saturday for prostitution—she was driven to our undercover location (along with a 26-year-old female prostitute) by a 20-year-old man. The teen is clearly a victim of sex trafficking. We arrested the driver for Deriving Proceeds from Prostitution and we are going to do everything we can to get her help and find out who is involved in trafficking this teenager," said Sheriff Grady Judd.
Detectives learned that 22 of those arrested are receiving Food Stamps benefits and those benefits are possibly being used in a fraudulent manner. Nine of the "johns" told deputies that they were married and one was engaged to be married. Five of the prostitutes told deputies they were married.
Among those arrested in the investigation are:
A 16-year-old girl from Orlando. She was charged with prostitution along with 26-year-old Amanda Parker of Orlando. They were brought to the undercover location by 20-year-old Stanley Benson, also from Orlando. He was charged with deriving proceeds from prostitution. Detectives are now conducting a human trafficking investigation.
32-year-old Justin Bachand of Lakeland is employed as a Florida Department of Corrections Probation Officer. He solicited an undercover female detective to expose her breasts and have protected sexual intercourse in exchange for money.
50-year-old Mark Graffrath of Lakeland was arrested during two previous PCSO prostitution operations. This time Graffrath solicited an undercover female detective for sexual intercourse without a condom in exchange for money. This is the same undercover female detective that resulted in Graffrath's arrest in 2008.
47-year-old Richard Sierra of Altamonte Springs is an attorney for Kosto & Rotella Law Firm in the Orlando area. He traveled to the undercover location to have a "Girlfriend Experience" (sexual intercourse) in exchange for money. Sierra attempted to conduct a pat-down, stating when he did this he usually pats the girl down for wires. He was charged with Soliciting Prostitution and Assault. Sierra told deputies he was married.
43-year-old Christopher Havlicek of Palm Beach Gardens is the Managing Director/Palm Beach Market Manager for JP Morgan Chase Bank. He negotiated to be with an undercover female detective for ½ hour for cash. Havlicek then immediately disrobed and got onto the bed. Havlicek told deputies he was married. According to NBA.com, Havlicek is a former reporter for NBA TV.
50-year-old Anthony Stevens of Groveland is a Special Education Teacher at Groveland Elementary in Lake County. He solicited a female undercover deputy for sex / GFE (girlfriend experience) in exchange for money. Stevens told deputies he was married.
30-year-old Terra Webb and 43-year-old Charles Kinsey were a couple from St. Petersburg, Florida. They arrived at the undercover location with a 3-1/2-month-old baby. After Kinsey didn't hear from Webb he came to the undercover location with the baby. DCF was notified and the baby was turned over to their custody. Webb had negotiated money for sex with a male undercover deputy—she was arrested for Soliciting Prostitution and he was arrested for Child Neglect/Endangerment.
54-year-old William Higbee of St. Petersburg arrived at the undercover location with a bag of domination sex toys, including but not limited to a whip, leather/chain shackles, leather collar, ball gag, and a bottle of Vodka. Higbee is also part owner/chef at Cafe 6200 in St. Pete. He was arrested for Soliciting for Prostitution.
35-year-old Toni Sella of Tampa claims to be a porn star and provided the link to her pornographic website to the undercover detective. She stated she is on disability and receives $1,600 a month but she charges for different services on her website. She says her stage name is Ella Meadows. She was charged with Soliciting Prostitution.
Ocala Post obtained video from the sting. The audio has been removed due to the fact that it will be used during the investigation and court hearings.