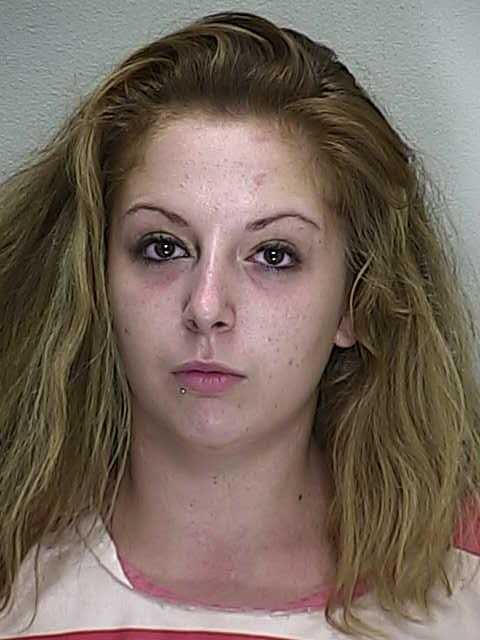 Ocala, Florida — An Ocala woman was arrested after she kicked a deputy in the face and then slipped out of her handcuffs.
Marion County Sheriff's Deputy Steven Simpson, responded to the 2100 block of NE 56th Street in Ocala, after a property owner called about a female trespasser.
The reportee told the deputy that Stephanie Ramos, 22, was causing a disturbance and she was not welcome on his property. He stated that she was a heavy drug user and made suicidal threats.
While on the scene, Ramos stated that she was having a problem and needed to get out of the heat.
Deputy Simpson told her that she could sit in the back of his air-conditioned patrol car.
According to reports, once inside the patrol car she stated she needed to get some belongings from the house. She also told Deputy Simpson that she was under a court order to attend a drug rehabilitation facility.
Deputy Simpson noted that Ramos appeared to be under the influence of something while he was speaking with her.
As the deputy was speaking with Ramos, the reportee produced a phone with a text message from Ramos that said, "I am going to kill myself because no one will return my calls."
Ramos stated that she sent the message out of anger.
While Deputy Simpson completed the paperwork for the trespass, Ramos became upset.
Deputy Simpson opened the back door to the patrol car and asked her to calm down. He told her she was not free to leave because she may attempt to harm herself.
Ramos then told the deputy she was getting out of the car and that [she] was not going anywhere. She then tried to push past the deputy.
At that point, the deputy attempted to place Ramos in handcuffs. She then lay back in the seat and kicked Deputy Simpson in the center of the face.
The Deputy pulled Ramos from the car and handcuffed her as she continued to kick and flail her arms.
Once the deputy got the cuffs on, he placed her into the back of the patrol vehicle; at which time she pulled one of her hands through the cuffs and began resisting the deputy again.
According to reports, the deputy was able to cuff Ramos' hands in front of her body. He then called for back-up. Two other officers arrived and had to place Ramos in a T.A.R. before she could be transported to the Marion County Jail.
Ramos was charged with Battery on a Law Enforcement Officer and Resisting Arrest.
According to court records, Ramos was Marchman Acted for substance abuse on July 9, 2014.
She is currently being held at the Marion County Jail on $6,000 bond.