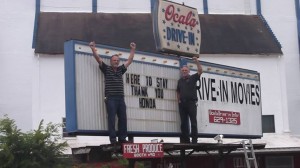 Ocala, Florida — Ocala residents should pat themselves on the back. Due to an overwhelming amount of votes from the community, the Ocala Drive-In won the "Project Drive-In" contest enabling them be able to keep their doors open.
Honda Motor Corp. hosted the contest and now a historic landmark will be here for years to come.
Owners John and Charlie Watzke received confirmation early this morning that the Ocala Drive-In had been chosen as one of the winners to receive a new digital projection system. The new digital projection system is said to be worth an estimated $80,000.
With technology changing by the minute, the new system will now be the main artery of the Drive-In.
The owners wrote on Facebook, "We want to Thank Everyone with a Huge Celebration Party but the weather does not look like it will co-operate with us at the drive-in for the next few days so Please Watch for the Announcement of the Celebration Party and come out and join us. THANK YOU , THANK YOU , THANK YOU, THANK YOU"
This is proof that the community still has what it takes to pull together when it really counts.
The iconic Drive-In opened in 1948, making the win a huge victory for a piece of Ocala History.
Please follow and like us: