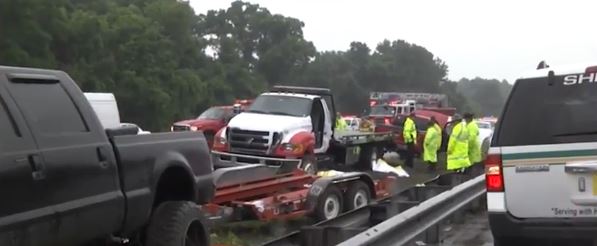 Ocala, Florida — Florida Highway Patrol investigators continue to piece together the events that led to a multiple car crash on Saturday, May 3, 2014, on I-75 in Ocala, Florida that killed three people.
Trooper Chelsea Richard was completing a single-vehicle crash investigation in the center median when a truck driven by Troy T. Owens, 22, of Ocala traveled into the median striking Trooper Richard, Mr. John Duggan and Mr. Robert Phillips. Trooper Richard and Mr. Duggan were pronounced deceased at the scene.
Mr. Phillips expired later that evening at Ocala Regional Medical Center.
John Lindecamp, 30, was traveling southbound on I-75 in the center lane. Owens was traveling southbound on I-75 in the inside lane. Richard's patrol car, a 2004 Chevy pickup driven by 17-year-old Hannah Bartlett and Duggan's tow truck were parked on the inside emergency lane due to the previous traffic crash.
Lindencamp abruptly applied his brakes due to stopped traffic, causing his 2006 Mercury SUV to slide sideways into the inside lane. Owens, who was driving a 2005 Ford pickup then sideswiped Lindencamp and was redirected onto the median. Owens' vehicle traveled southeast between the parked cars and the guardrail. Owens' vehicle struck Richard's patrol car, Bartlett's 2004 Chevy pickup, Richard, Phillips, Duggan and then the tow truck, in that approximate order. Owens' vehicle came to rest south of the tow truck on the eastern grassy shoulder and an emergency lane.
Phillips had arrived on the scene with his wife after receiving a phone call from his daughter telling them she had been in an accident. Shortly after arriving, Phillips told his wife and daughter to leave since he felt it was unsafe for them to be at the accident scene. Phillips stayed behind to wait with his daughter's friend, Bartlett. Phillips was waiting for her truck to be loaded onto the tow truck when tragedy struck.
"This accident investigation is very complicated and the homicide portion of the investigation will take time," said Sergeant Tracy Hisler-Pace, Public Affairs Officer for the Florida Highway Patrol. "This is a very tragic situation for everyone involved and FHP thanks everyone for their patience during this trying time."
According to the Florida Highway Patrol, the Florida "Move Over Law" is being ignored by drivers.
Sergeant Kim Montes with FHP said, "Drivers today are too distracted. It's too late to be sorry after something like this happens. People are always sorry and feel bad when they cause someone else's death and it's too late; you should be doing something to prevent it."
Troopers said it is simple, when you see flashing lights, move over, and if you can't move over you are required by law to reduce your speed by 20 mph below the posted speed limit. The law pertains to all emergency vehicles and roadside workers. Troopers also said that in light of the recent tragedies, enforcement of the Florida "Move Over Law" will be in full effect.
Ocala Post spoke with Sergeant Tracy Hisler-Pace several times today and during those conversations, it was learned that this investigation is extremely complicated, and has touched many lives.
The family, as well as FHP, are asking the public and media not to speculate on this case prior to the facts being determined.
The funeral for Trooper Chelsea Richard will be at 2 p.m. Thursday, May 8, 2014, at First Baptist Church, 2801 SE Maricamp Road (SR-464). Visitation will be from 5-7 p.m. Wednesday, May 7, 2014, also at the church.
Flowers can be sent to the church.
The family is currently working on setting up a trust fund.