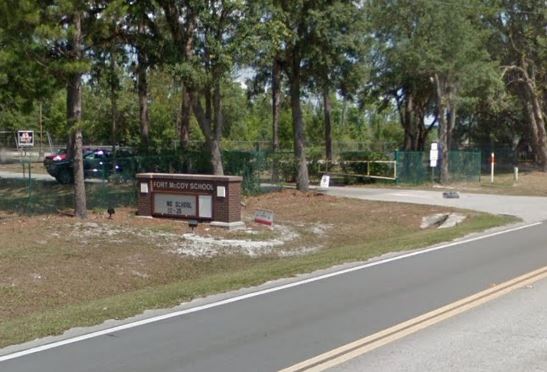 [Last updated on February 13, 2020, at 11:04 p.m.]
A Marion County mom says she was sick to her stomach when her 14-year-old son came home from Fort McCoy School and told her that one of his teachers had been sexually harassing him.
Christina Langford, who lives in Silver Springs, said that her son came home upset two weeks ago after the teacher had made a flirtatious comment to him. She said her son told her that the harassment had been going on since November of 2019.
"The teacher told him he looks like a grown man and that he can get older girls. Then she asked him if he had wet dreams about his girlfriend and if he was in a sexual relationship with her," Langford said.
Langford alleges that in one incident, the teacher made her son do push-ups when he asked to go to the bathroom. Langford's son said that while he was doing push-ups, the teacher whistled at him and told him that his butt looked good in the jeans he was wearing.
Upon hearing this, Langford immediately filed a complaint with the Department of Children and Families, the school's administration, and the Marion County Sheriff's Office.
On Friday, January 24, Langford had a meeting with the school, during which time the school assured her they would investigate the claims.
Langford said that after they left the meeting, her son stated: "Mom, I feel so much better."
In a message to Ocala Post, which gave great detail of the incident, Langford wrote, "Two days later! TWO days later on Wednesday, I get a call from the dean saying to come into the office. I am thinking it is to give me an update, as it has only been two days, was I WRONG. I come into a room with four people, the principal the assistant principal (who I never met) and the dean and my son. Who was very upset on the verge of tears. (After we left he told me that they pulled him from breakfast and was grilling him for an hour telling him he is a liar and that because of his posture he isn't telling the truth, all while he kept asking to call me) I ask him what's wrong?? He wouldn't answer me. The principal, with a smirk on her face, stated that they did a 'thorough investigation' of 4 hours and no one said that they heard anything. So, therefore, there are consequences for giving misleading information."
Langford said the school administration told her that they were not calling her son a liar, but that, they did not have enough proof, therefore, they were going to discipline her son for providing false information.
Langford said, "I will not lie. I got angry, I screamed, I yelled."
During the meeting, Langford brought up the fact that a previous teacher had a sexual relationship with a student. She said the principal shut her down and told her [that] had nothing to do with anything.
"It shows a pattern," Langford said. "Apparently Fort McCoy School does not care about the safety of the children."
Langford said that the school immediately retaliated against her son and recommended a 10-day suspension and that he be transferred to an alternative school.
"My son is an A/B student. He has a 3.2 GPA. He is a very well behaved kid. Anyone that knows him knows this. They didn't want to hear it. I asked who they contacted as far as the investigation because I don't agree and refused to sign anything. The dean of the school looked at me and said that he contacted the school board and turned in their packet to them. He said they looked it over and decided not to do an investigation and that, this was a level three offense. They wanted to suspend my son for 10 days and recommend that he go to an alternative school," Langford wrote. "I told them sounds like you are just trying to get rid of my son. They just kept saying he given false information. I told them that they were not looking out for my son, but rather their appearance to the public."
Langford said her son was visibly upset.
Consequently, Langford pulled her son from the school and enrolled him with Florida Virtual School. She said her son nor her daughter will ever step foot back in Fort McCoy School.
On February 4, Langford said the school board called her and told her that they were not proceeding with the school's recommendation to send her son to an alternative school and that his suspension would be removed from his record.
Langford told Ocala Post that she feels lost. She said, as a mother, she could not just stand by and let this go. She said that faculty, including other investigators, have been rude to her and have not taken the situation seriously.
"They all make it out to be as if my son is a liar," Langford said.
Ocala Post reached out to the Marion County Public Schools.
In a statement, MCPS Public Relations Director, Kevin Christian, said, "The school did investigate the allegation. Despite multiple statements taken from other students and adults in the room, no one substantiated the claim that was made. I cannot discuss anything specific to the student due to privacy reasons."
However, on Monday, February 10, Langford, in a very candid conversation, told Ocala Post that since she had reluctantly posted her story on Facebook, two witnesses had come forward. She said not only did two witnesses come forward, but that, one of the witnesses went to the administration of the school and gave them her statement.
When asked about the witness coming forward, Christian said: "I will check to see if any further investigation is underway."
In regards to the investigation, dozens of parents at Fort McCoy school said they were not even aware that their children were being questioned about a situation of a sexual nature. Many have expressed concern through social media, most siding with Langford.
Langford said, "I feel like because it is a female teacher harassing my son that he is not being taken seriously. If this were a male harassing a little girl, this would be a different story." She went on to say, "This is a double standard."
Langford said, "I believe my son is telling the truth. He even offered to take a polygraph test."
As for now, Langford said she is waiting to see if any other witnesses come forward.
UPDATE: On Tuesday, February 11, 2020, Christian stated the following to Ocala Post: "Despite additional statements offered Monday at the end of the school day, no information confirms the allegations being made."
UPDATE: Read the update here
Comments Open Below