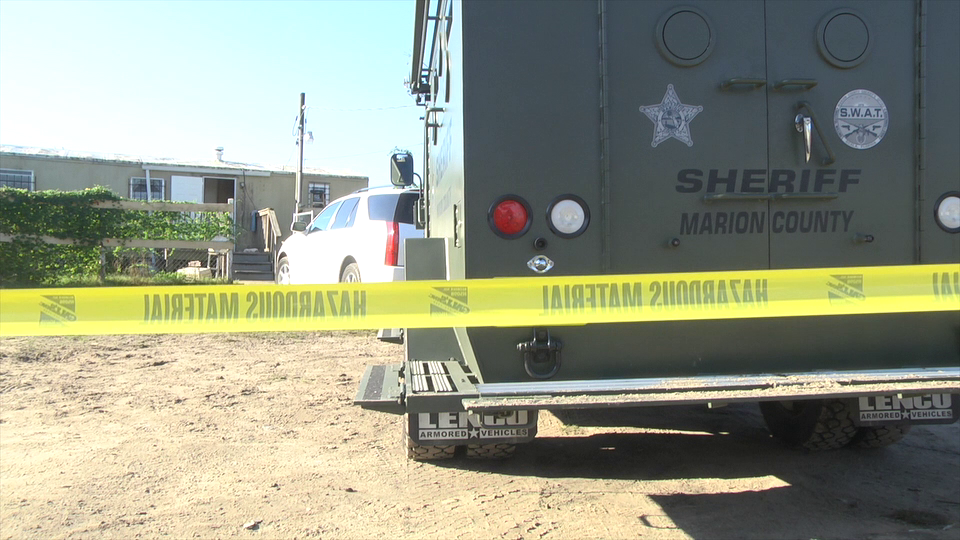 Pedro, Florida  — The Marion County Sheriff's Office said law enforcement officials were met with gunfire as they attempted to serve a warrant on Wednesday morning.
According to MCSO Lt. Ryan Robbins, SWAT members and agents with the Unified Drug Enforcement Strike Team (UDEST) were shot at while serving a high-risk drug search warrant at 332 Southeast County Road 42.
One of the suspects was wanted for trafficking in oxycodone.
Officials said that SWAT team members repeatedly announced their presence and attempted to call the occupants out of the house while surrounding the home. During that time, the SWAT team was fired upon by a man inside the home.
One SWAT team member returned fire.
According to a press release, "Shortly after the gun fire ended, three male subjects exited the residence and have been detained for questioning. Medics responded to the scene to evaluate all involved. No one was injured during this incident to include SWAT team members or subjects within the residence."
Lt. Robbins stated, "Sheriff Chis Blair immediately requested the Florida Department of Law Enforcement (FDLE) respond to the location to conduct a complete investigation into the shooting."
Booking photos will be released when they are made available.