DeLand, Florida — DeLand Police Officer James Harris was fired from his job after he accidentally ran over Marlon Robert Brown as he was fleeing from officers.
FHP spokesperson, Sgt. Kim Montes, says 38-year old Marlon Robert Brown "failed to stop" for a Volusia County deputy who attempted to pull him over for a seat belt violation on Green Avenue at Parsons Avenue at 12:36 Monday morning. The Volusia County deputy then backed off and radioed dispatch to alert officers in DeLand that the driver was in their area.
Marlon Brown fled from his car on foot after DeLand Police Officers attempted to pull him over. As officers were pursuing Brown, he slipped and fell in front of the officer's patrol car, causing the officer to run over him.
Brown led two separate agencies and multiple officers on a chase, but it was Officer James Harris that went around other officers; running Brown over with his patrol car. Officer Harris was fired for violating department policy involving a pursuit, according to officials.
The family of Marlon Brown hired Benjamin Crump, the no-name attorney that recently made a name for himself during the Trayvon Martin case.
Benjamin Crump says the officer should have been charged with vehicular homicide. A grand Jury refused to press charges against Officer James Harris earlier this month, citing the video did not show cause for charges to be filed, because the video clearly showed Marlon Brown falling in front of the vehicle.
Crump said during a press conference, "Marlon Brown was executed in a vegetable garden."
This case has created outrage from both sides, and many are now wondering how an officer is supposed to peruse a criminal if they are going to get fired – then the city sued – every time an accident happens while an officer is performing his duties.
"The officer was doing his job, everybody knows you don't run from the cops unless you did something wrong and have a reason to run. You don't just run because you weren't wearing a seat-belt," Said Resident Tyrece Jackson. "I mean… I have been arrested for child support, but look at Marlon's criminal past. Everyone knows he was a bad man."
Brown was a known felon in the area.
Brown had been arrested more than a dozen times. He has had 18 misdemeanor charges, five felony charges, and three felony convictions.
Brown has an array of charges such as:
Felony Possession Of a Controlled Substance
Battery (multiple)
Uttering Forged Checks (multiple)
Grand Theft
Driving On A Suspended License (multiple)
VIEW LIST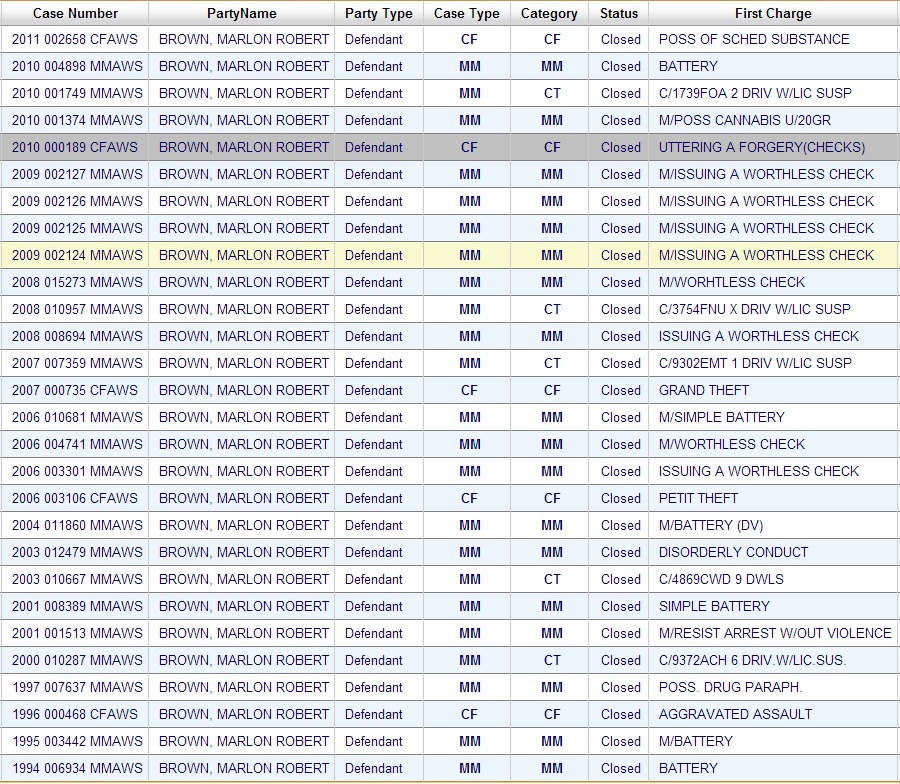 Krystal Brown, Marlon Browns Ex-wife, received a payout of $550,000 from the city of DeLand for Marlon Browns death. The settlement releases the city from any further legal action.
Crump is now asking for further investigation to be conducted by an independent party.
Ocala Post slowed the video down and watched it frame-by-frame; it takes only one second after Brown slips for the patrol car to hit him. Officials say the one second would not have allowed sufficient time for Harris to stop his patrol car in slippery grass.
The medical examiners report doesn't show any broken bones, fractures, or head injuries. The report states he died from mechanical asphyxia, which was the weight of the car that kept him from breathing. Crump is now accusing the medical examiner of fabricating the report.
It is still unclear as to why Marlon Brown ran from police; however, police said Brown was under a court ordered curfew.
We want to hear from you. Do you think Officer Harris should have been fired? And do you feel he was fired as a political move to avoid further attention from the media spotlight?