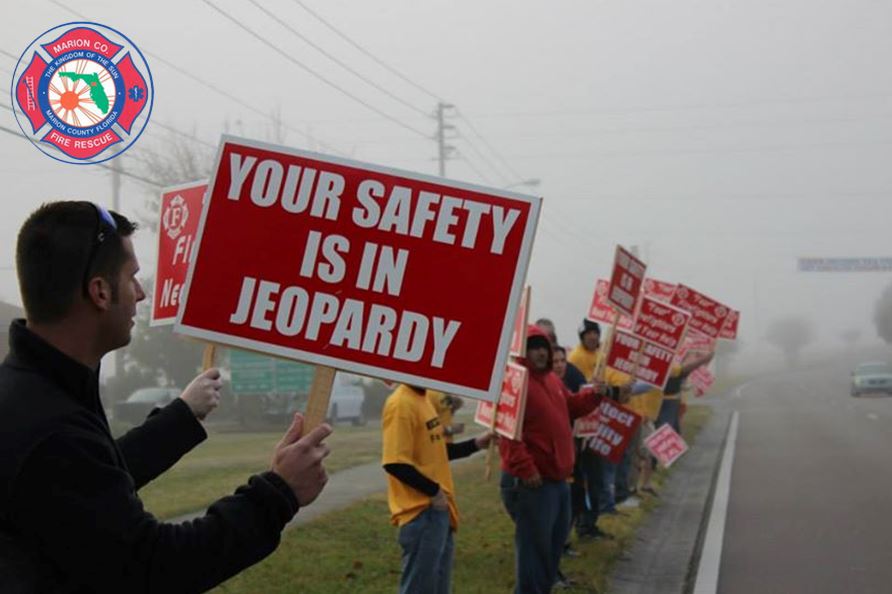 [Last updated on March 13, 2015, at 4:16 p.m.]
Ocala, Florida — What has to happen before the Marion County Board of County Commissioners (BCC) realizes that public safety should be a number one priority?
A better question is: how long will it take before residents decide they have had enough and stop voting for the same commissioners time after time?
While commissioners continue to collect large salaries, invest in worthless landfill deals and other worthless real estate endeavors — such as the CNG (Compressed Natural Gas) station, located at 3230 SE Maricamp Road — Marion County public safety suffers. As a result, residents are put at risk.
Marion County Fire Rescue announced that they have temporarily shut down two squads — Squads 16 and 21 — due to staff shortages.
Ryan O'Reilly, Professional Firefighters of Marion County secretary, said he tried to keep the squads from shutting down.
He said there is cause for concern with the closure of the squads. Why? Well, Squad 16 was a HAZMAT unit that was equipped to deal with biological or chemical agents, and Squad 21 was an advanced life support unit. Both squads were equally important.
Officials said Squad 16 serviced the area between Ocala and Belleview, while Squad 21 serviced southwest Ocala and the area close to On Top of the World, where many elderly residents reside.
Squad 16 had been permanently staffed since last October, after the nationwide Ebola scare. It was staffed with Hazardous Materials Technicians and paramedics, and was capable of first response advanced life support, vehicle extrication, and any HAZMAT scenario including mitigating methamphetamine scenes, which, once cleared, allowed law enforcement to do a proper investigation leading to arrest.
Squad 21 was a dual purpose unit staffed with Technical Rescue Technicians and paramedics that had been in service for approximately three years. This squad acted as a first response advanced life support unit that provided emergency medical care to individuals with medical emergencies while awaiting an ambulance to arrive to take the patient to an emergency room. It was also capable of vehicle extrication, high angle rescues, and various other technical rescue emergencies that require a higher level of training. It has been browned out on occasion in the past when there were not enough Technical Rescue Technicians on duty during the day to staff the unit.
Unfortunately, Squad 21 will no longer be responding to emergency calls in the southwest Ocala or On Top of the World areas.
The temporary shut down all stems from lack of funds and low salaries for firefighters.
In December, Ocala Post reported that most firefighters are paid so little that they qualify for food stamps. Some residents might have seen the billboards that state this fact. Many firefighters are paid less per hour than the starting hourly wage of some cashiers.
A firefighter's beginning salary is $8.98 per hour.
Firefighter/EMTs begin at $9.83 per hour.
A paramedic's beginning salary is $10.98 per hour.
An EMT's beginning salary is $8.98 per hour.
Firefighter/paramedics begin at $11.93 per hour.
Starting annual salaries for a firefighter/paramedic in The Villages is $42,653; Pasco County, $43,389; Gainesville, $44,188; and in the City of Ocala, $37,553. Meanwhile, Marion County firefighters must work as many overtime hours as possible to even make ends meet. Many of them hold second jobs and are forced to spend countless hours away from their wives and children. While firefighters say this is the career they have chosen because they love the job, they would also like to be able to provide for their families.
The decision was made to shut down the squads because Fire Rescue continues to lose employees. Currently, it is short approximately 55 positions, which include firefighters, paramedics, and EMTs.
O'Reilly said surrounding counties have higher paid salaries, therefore attracting new applicants. He said Fire Rescue has also had experienced personnel leave to work elsewhere.
"We are very concerned over this issue and how it will impact the citizens of this county," O'Reilly said. "Station 21 has around 5,000 or more calls for service a year. And, with Squad 21 no longer being permanently in service, response times in the area will go up."
O'Reilly said this will lead to delays in lifesaving treatment for the affected areas. It will also have an impact on surrounding areas as other units are forced to pick up the slack.
O'Reilly went on to say, "We are in a business where seconds count. Any delay is not good for the citizens who expect that when they call 911, paramedics and firefighters will be there to help."
Currently, the firefighters union is bargaining with the county over these unit shutdowns.
"As union leaders, we are not only advocates for the firefighters, paramedics, and the EMTs we represent, but we see ourselves as community advocates," O'Reilly said. "We have specific language in our contract to prevent cuts in service such as this. We take our jobs and our mission of saving lives and protecting property very seriously."
The problem facing Marion County Fire Rescue is twofold. MCFR is losing experienced staff, including firefighter paramedics with 6 to 7 years of experience. And, the county is unable to attract new employees with the same level of training as fast as current employees are leaving.
"Not only are we unable to attract paramedics to apply here, but those applicants who do apply are fresh out of school with no on-the-job experience," O'Reilly said. "The issue there is pay. The county's salary study showed that we are $10,000 to $12,000 a year underpaid."
"In Marion County, we cannot get enough applicants to cover the open positions, but other departments are having hundreds of applicants for a handful of positions," O'Reilly said. "We are not competitive."
O'Reilly said that one of his co-workers with over 10 years experience in a promoted position is currently testing for Gainesville Fire Rescue and will make more the first day on the job there than he currently does with MCFR.
O'Reilly said, "It's a travesty what is happening here, and citizens are going to suffer because of it."
More pressing though, is the deficit spending model MCFR currently operates under. Recently, County Commissioners were shown that if funding does not increase, sometime next year the department will be $3.3 million in the hole.
"That is what it costs to employ 82 fighter paramedics," O'Reilly said. "If this does not change, the new discussion will not be about which units to shut down, but rather which stations to shut down."
Last year, MCFR's turnover rate was 13 percent. In the last four years, it has turned over 45 percent of its staff. On average, MCFR is typically 30 positions light and loses primarily firefighter paramedics who are replaced with single-certified firefighters and EMTs.
"A single-certified firefighter would need approximately two years or more to become a firefighter paramedic," O'Reilly said. He reiterated, "Nearly all new hires have zero experience."
On top of salary issues, emergency responders are forced to use deteriorating equipment, including vehicles. And despite protests, commissioners have not made a real effort to ensure MCFR is properly funded.
O'Reilly said the current shutdown is for squads, but stations could be shut down in as little as a year. He said the main goal is to keep that from happening. However, he fears that the events that have been unraveling — vehicle issues and lack of employees — are just the beginning.
Senior staff indicated that if this scenario comes to pass, Station 2 in Citra, Station 6 in southeast Marion County, and Station 33 in southeast Ocala would be the first stations to be browned out or shut down. A brownout is when a station is shut down for the day depending on staffing levels. Only 39 employees work at these stations.
O'Reilly said that unless commissioners begin to take this issue seriously, it is only going to get worse.
Ocala Post is currently investigating other issues affecting MCFR. Those details will be published when the investigation is complete.
It should also be known that emergency workers will not lose their jobs; personnel in Squads 16 and 21 will be placed in regular EMS and Fire Rescue squads.
Ocala Post reached out to the BCC, but an immediate response was not received.