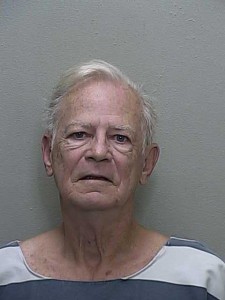 Ocala, Florida — Today an Ocala Police Department detective was given information about an advertisement on Craigslist. The ad advised that a 56 year old male was looking for other men to perform oral sex on in the Paddock Mall food court restrooms.
The ad advised that the man would be wearing tan pants, a dark blue shirt, and that interested persons should be between 20 and 50 years old, and weigh less than 200 pounds. The ad advised if interested "HMU," which in cyber world means "hit me up." The ad also advised that the subject would be present at the Paddock Mall location between the hours of 11 a.m. and 1 p.m.
After reviewing the information, at approximately 11:10 a.m., Sergeant Eric Hooper arrived at the food court area of the Paddock Mall wearing plain clothes. Ten Minutes after arriving, Sergeant Hooper observed a subject fitting the description from the Craigslist advertisement.
Sergeant Hooper went into the bathroom handicap stall and several minutes later, the male followed Sergeant Hooper into the stall and immediately put his hands on Sergeant Hooper's penis over top of his clothing. Sergeant Hooper immediately advised the man to prove he wasn't a police officer, and the man then exposed his penis. Sergeant Hooper then identified himself as a law enforcement officer and escorted the man out of the restroom.
The subject arrested was identified as James Leroy Routson, 71. Routson advised that he had placed the ad on Craigslist and had lied about his age.
Routson was transported to the Marion County Jail and charged with one count of Exposure of Sexual Organs. Routson posted his $500 bond and was released at 6:18 p.m.