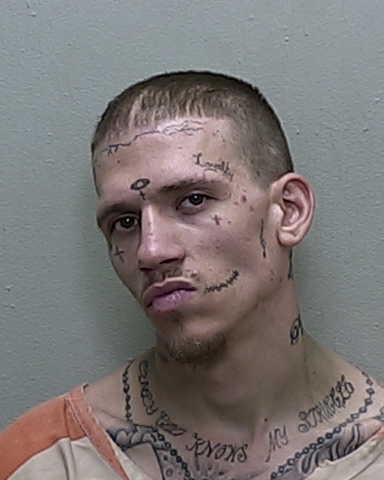 Frank Heffernan, 25, who had paid two individuals to drive him around in a vehicle that he had stolen from his mother, was arrested following a traffic stop.
An OPD officer conducted a traffic stop on Heffernan after noticing that the taillights on the vehicle were not working, and upon running the license plate number, the vehicle came back as stolen.
Heffernan's mother had reported the car stolen.
Heffernan stated that he was "a little late" returning the vehicle. He then retracted his statement and said, "I'm a lot late."
According to the arrest affidavit, Heffernan had been using his mother's car to distribute methamphetamine.
During a search of the vehicle, the officer found a large plastic baggie containing methamphetamine.
Heffernan was charged with Grand Theft Auto and Trafficking in Methamphetamine.
Heffernan, who is a violent career criminal, has been in and out of jail since he was a juvenile.
The individuals Heffernan had paid to drive him around, who each received $5.00, were not charged with a crime.
Heffernan is being held on a $50,000 bond. His next court date is slated for February 11, 2020.