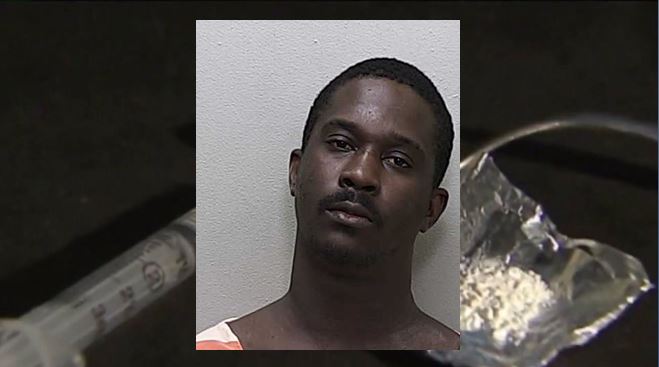 A man was pulled over and arrested Wednesday after someone reported the suspect was driving on a suspended license.
Shortly after Christner Angerville left his Berkeley Pointe Apartment, someone called the police and reported that he had left the area driving a black Honda Civic and was known to have a suspended driver's license.
A short time later, an OPD officer spotted Angerville traveling northbound on NE 25th Ave.
According to an arrest affidavit, when Angervile saw the police car he began driving erratically in an attempt to evade the officer before pulling into a Wells Fargo and exiting the vehicle.
The officer then pulled into the parking lot, exited his vehicle, and ordered Angerville to stop walking. He was then detained.
According to reports, while officers were tending to Angerville, he attempted to discard a white powdery substance and other items. When officers tried to stop him from discarding the items, he became combative and began kicking the officers. Angerville was then escorted to the ground.
Once at the jail, Angerville reached into his jacket pocket and placed several cigars in his mouth and began to chew them up. The officer then grabbed Angerville to prevent him from swallowing the substance. He eventually complied and spit out the cigars.
Angerville was charged with Introducing Contraband to a Detention Facility, Driving on a Suspended License, Resisting an Officer with Violence, Tampering with Evidence, Possession of Marijuana, Possession of Heroin, Possession of Drug Paraphernalia, Trafficking in MDMA (Armed), Possession of a Controlled Substance without a Prescription (x2), Possession of a Firearm by a Felon, Possession of Conveyance while Trafficking Drugs, and Trafficking in Methamphetamine.
He is being held in lieu of a $95,500 bond due to the fact he violated his probation.