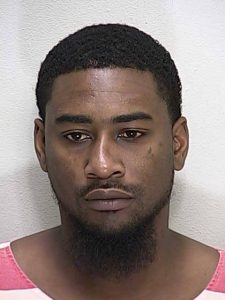 Major Crimes detectives with the Marion County Sheriff's Office arrested Avisus Sedale Davis, 28, Tuesday for raping a 13-year-old girl in January of 2016.
Detectives said that Davis also impregnated the girl.
According to reports, the girl did not report the rape until after she gave birth.
DNA evidence proves that Davis is the father of the child.
The juvenile stated that she met Davis through a family member. She said while at his house, she had asked to use the bathroom. The teen said that when she was finished in the bathroom, Davis forced himself on her and raped her.
Davis told the teen that if she told anyone about the rape, he would "shoot her house up".
Davis was charged with Sexual Assault of Victim Under 18 Years Old, Cruelty Toward Child- Impregnate Child Under 16, and Possession of Marijuana. Additionally, Davis was charged with two probation violations for  Burglary and Fleeing and Eluding Law Enforcement.
Davis is currently being held in the Marion County Jail without bond.
Davis may have had contact with other minors.
If you believe your child had inappropriate contact with Davis, call the Marion County Sheriff's Office at 352-732-9111, Crime Stoppers at 352-368-STOP, text a tip to 274637 using keyword 368-STOP, or visit www.ocalacrimestoppers.com. Anonymity is guaranteed.