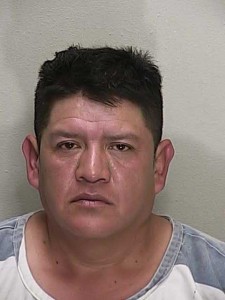 Ocala, Florida — On April 6, 2014 multiple deputies responded to chaotic scene at St. Johns Catholic Church in reference to a battery, and were met by a group of people that spoke limited English.
According to a witness, he (the witness) had exited the church and saw Hector Francia, 42, punching two juvenile victims.
Authorities say that Francia was heavily intoxicated and wanted to leave the church, however the juvenile victims wanted to stay.
Reports indicate that after the juveniles expressed to Francia that they wanted to remain at church, [he] became angry and punched the boy victim in the face and then turned and punched the girl victim as well.
According to reports, Francia then entered the church to retrieve his car keys and fled the scene.
A translator was used to verify statements of the victims.
Deputies located Francia and his vehicle at his residence, however he refused to speak with deputies.
Francia was instructed several times by deputies to exit his residence, but he refused.
Francia was eventually placed under arrest and transported to the Marion County Jail.
He was charged with Aggravated Child Abuse and Domestic Battery.
Francia remains booked into the Marion County Jail on a $500 bond.